Puerto Rico's economic activity down 1.8% in September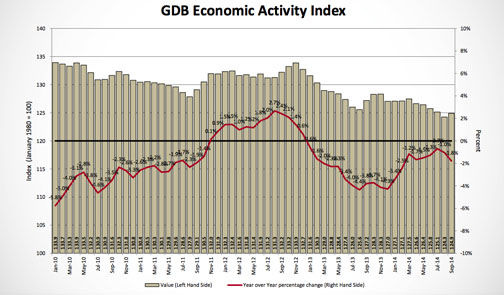 Puerto Rico's Economic Activity Index continued its free-fall in September, when according to the Government Development Bank there was a 1.8 percent year-over-year drop in the results, marking yet another month of contraction.
However, the most current numbers show a slight 0.5 percent increase when compared to August 2014, the GDB said.
When broken down by key indicators, the results were as follows:
Total non-farm payroll employment last month averaged 916,300, an annual increase of 0.2 percent.
Electric power generation for September 2014 totaled 1,795.2 million kWh, an annual decrease of 5.3 percent.
The preliminary number for gasoline consumption in September 2014 was 85.1 million gallons, 8.6 percent below September 2013. The monthly figures of gasoline were revised from March to June 2014, which affected the level of the index, the GDB said.
Cement sales for September 2014 totaled 1.10 million bags, registering an annual decrease of 9.7 percent.