Economist: Sustainability in public finances 'critical' to recovery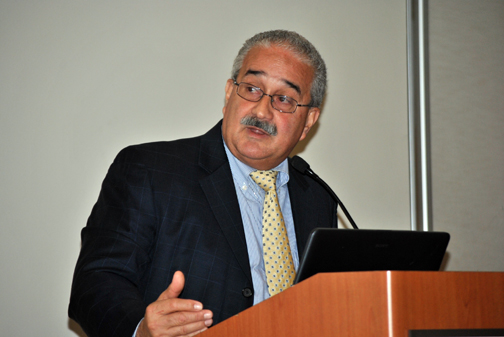 It is the general belief that it is bad for a government to have a deficit or be shoulder-deep in debt. However, while it is "perfectly legitimate" for public administrations to have shortfalls and finance them with debt, what is dangerous is when the practice leads to unsustainability.
Puerto Rico's fiscal problems have landed in the unsustainable category because of three main reasons: inadequate revenue streams, injudicious expenditure policies, and mismanagement of public debt, respected local economist Juan Lara said during a workshop sponsored by the Center for the New Economy.
"Chronic government revenue shortfalls are part of the problem we've had for years, as well as excessive public spending," said Lara. "Even when the economy is growing, revenue isn't growing at an adequate pace, which plants the seed of unsustainability."
According to the most recent numbers, Puerto Rico's public debt is $68.4 billion, which represents about 90 percent of the Gross National Product, and is coupled with an insolvent retirement system.
While the percentage is important, whether it can be steadily maintained for a prolonged period of time is even more significant, he said.
"In Puerto Rico's case, that number has been growing consistently over the years, and at an extremely fast pace," Lara said. "There's no doubt this indicator in our case points to the fact that Puerto Rico's debt is not sustainable."
Another problem that the island has been facing is an inability to establish a long-term positive revenue collection pattern — even though that trend seems to be shifting in part due to the temporary taxes the government levied on controlled foreign corporations.
The solution to that issue is a "real fiscal and tax reform" that includes provisions to ensure that a steady stream of revenue is generated and that it is enough to cover public expenses, he said.
At the end of Fiscal 2012, the Fortuño administration will reportedly have a $300 million deficit, which it plans to cover with new debt.