Economists: Bleak prospects must spur construction sector creativity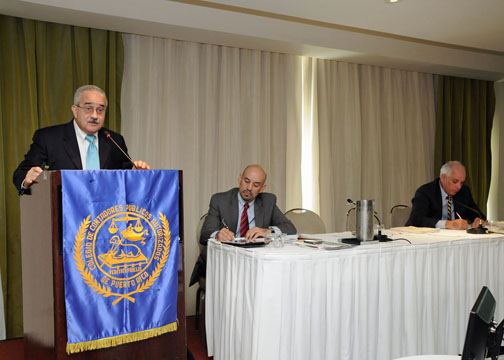 The challenges that Puerto Rico's construction sector is facing, driven primarily by fiscal constraints and volatility in certain markets, will remain a constant in the next two years, when the industry will have to be creative to move forward, a well-known economist said during a recent forum.
"Private company agendas must be based on the premise that there will be very little growth. So, they should therefore continue to focus on reducing costs, introducing new construction technologies and learn very specifically what consumer needs and demands will be," said Graham Castillo, president of the Estudios Técnicos research firm during the Puerto Rico Society of Certified Public Accountants 6th annual Construction Industry Forum held late last week.
Construction activity on the island has scaled back considerably in recent years in response to several trends: an aging population, migration, job losses (180,000 since 2006), tighter credit due to the financial system's shrinking liquidity and stricter regulations that keep would-be homeowners from signing on the dotted line.
"During the first three quarters of 2012, there was a 20 percent reduction in existing home sales in general and a 37 percent reduction in new home sales," he said. "Three existing home units are sold for every new one built and the majority of the homes sold are in the $91,000 or less range."
However, in his presentation, Castillo noted how as of September 2012, there were nearly 6,500 new homes available for sale in price ranges considerably distant from the apparent demand: 68 percent were in the $200,000 or lower bracket; 28 percent ranged from $200,001 to $499,999; while the remaining 4 percent were priced at $500,000 or higher.
To bridge the gap between current demand for more economic housing and the surplus of more expensive homes, Castillo suggested that the government continue to focus on reviewing laws and regulations that increase the cost of housing construction, continue developing programs that integrate various public resources to enable the development and financing of affordable housing, and strengthening land use planning systems, and keeping up infrastructure investments.
"The private sector and the government must continue developing or adapting financial mechanisms or instruments as a solution to the new credit requirements to avoid a housing shortage in certain markets," he said.
Public investment is 'crucial'
The amount of money the government pumps into infrastructure and other projects is "crucially important" to the construction sector's positive growth, said Juan Lara, economist and partner of the Advantage Business Consulting firm.
However, with the end of the American Recovery and Reinvestment Act funds, which pumped $7.8 billion into the local construction sector from 2009 to 2012, the prospects for significant future public investments are slim, Lara predicted.
That said, construction companies and the government will be obligated to emphasize on more essential projects looking forward.