EDC, CUD join forces in favor of local entrepreneurs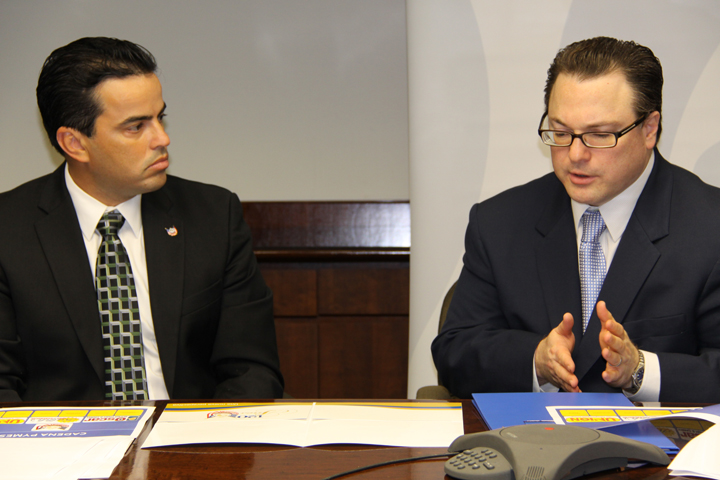 Several initiatives are in the works to strengthen the island's small and mid-sized businesses, including developing a website through which local companies can explore export opportunities, especially to countries in the Caribbean and Latin America.
The plan is part of a joint strategy between the Economic Development and Commerce Department and the United Retailers Association, known as the CUD for its initials in Spanish, which met Wednesday to also mark this year's celebration of "Small and mid-sized retailers week."
It was also agreed during the meeting to get the ball rolling on establishing a pilot plan to create a voluntary chain of retailers that will eventually generate benefits and discounts as a group, as well as the goal of lobbying for legislative reform in favor of local business development.
EDC Secretary José Pérez-Riera explained that the voluntary chain initiative will be worked in conjunction with Puerto Rico Trade, which in turn is working with the U.S. Department of Justice's Office of Monopolistic Affairs to ensure the newly formed groups meet certain regulatory requirements. Pérez-Riera, who also heads the Puerto Rico Industrial Development Company, also discussed details through which that agency will help local companies export their goods and services stateside.
"The Department has worked closely with the [CUD], so this meeting with its president and the group of entrepreneurs is part of the ongoing initiatives for dialogue and make way for the development of new projects that provide access to resources and information so that small and medium enterprises can be strengthened, become more competitive, and break into foreign markets," the government official said.
Meanwhile, CUD President Ignacio Veloz said the legislative reform the trade group will push for seeks to eliminated or amend laws and regulations that hamper entrepreneurship and the work of local entrepreneurs.
"We're very pleased by the interest shown by the secretary to our proposals and above all, because we feel that both entities are headed in the same direction and toward the same objectives, resulting in benefits for our economy," said Veloz, noting that another similar meeting will take place in coming weeks to follow up on the matters discussed Wednesday.