Coca-Cola empowers, connects women entrepreneurs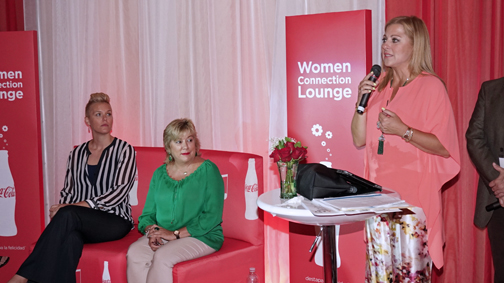 With the presentation of the "Women Connection Lounge" at the recently held Puerto Rico Chamber of Commerce convention, The Coca-Cola Company joined its #5by20 global program, which aims to empower women around the world by providing tools that contribute to their progress and improvement.
"In Puerto Rico, we joined the #5by20 program through the creation of this meeting place for the Chamber's women entrepreneurs' network and the professionals who attended the convention, to provide resources and strengthen relations that will allow women to continue to evolve together. We hope that this will be a good start in establishing professional bonds and partnershipsthat will continue to boost the leadership of Puerto Rican women," said Laura García, marketing director at Coca-Cola Puerto Rico.
At the Coca-Cola "Women Connection Lounge," local business leaders Patricia Eaves, manager of Sprint, Ana Bonilla, CFO of GFR Media, and Wesley Cullen, manager of the Coliseo de Puerto Rico, shared experiences and tips for female women in the business world during the "Business Women Power" talk. In addition, technology expert Obed Borrero talked about how social media and other digital tools are useful for businesses.
The #5by20 program is offered in 44 countries around the world, addressing the most common barriers women face in their attempts to be successful in the workplace. The initiative offers access to tools for the development of business skills, financial services, and connections with peers, mentors and program partners.