P.R. entrepreneurs lobby with Rosselló for priority status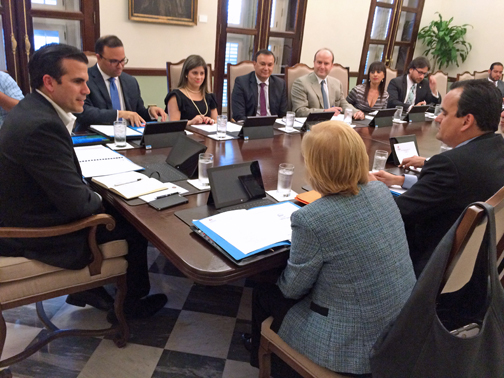 Members of the Empresarios por Puerto Rico trade group met Monday with Gov. Ricardo Rosselló to help identify measures to promote economic development focused on sustainability and in which priority is given to local businesses and eliminating barriers affecting competitiveness.
Empresarios por Puerto Rico Chair Enid Monge-Pastrana said the purpose of the meeting was to "bring to the attention of the governor issues that affect all of the local business sectors we represent ranging in nature from tax, labor, permits, cooperative and legislation directly related to small and mid-sized businesses, among others."
"We strongly believe in the urgency of promoting public policy that favors wealth creation in Puerto Rico and promotes fair competition without having to sacrifice our small and medium enterprises and their workers," she said.
The group's board proposed emphasizing upon regional economies where consortia comprised of academia, private sector and government promote projects that spur the activation of the economy and job creation in municipalities with high concentrations of the population most vulnerable to economic ups and downs, such as youth and the elderly.
Aside from requesting regular meetings with the governor, the group also recommended the appointment of an official link in Fortaleza with the sector and coordination of bi-monthly meetings with heads of agencies in charge of pressing issues for local trade such as: the Treasury Department, Economic Development and Commerce, the Office of Management and Permits and the Cooperative Development Commission.
"We believe that maintaining open constructive dialogue channels with the governor and agency heads, to help decision-making based on the reality of running a business in Puerto Rico," she said.
Empresarios por Puerto Rico was founded three years ago and represents industries that employ more than 50,000 people, generate sales volume exceeding $4 billion and account for more than 1,000 retail establishments in Puerto Rico.