Ex-D.C. mayor: Solving PR's fiscal crisis won't be enough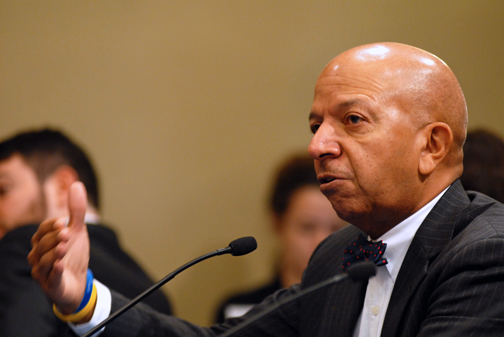 WASHINGTON — Former Washington, D.C. Mayor Anthony A. Williams, who steered the nation's capital from financial ruin to prosperity, told U.S. lawmakers Tuesday that solving the immediate fiscal crisis, while absolutely essential, will not alone be sufficient to bring Puerto Rico back to the position of economic self-sufficiency.
Williams, along with a former top economist with the International Monetary Fund and a New York bankruptcy lawyer, was among five experts who testified at a packed two-hour hearing here on Puerto Rico's fiscal crisis. The panel was called by the House Subcommittee on Indian, Insular and Alaska Native Affairs.
Led by the subcommittee's chairman, Rep. Don Young (R-Alaska) and attended by many other members of Congress including Puerto Rico's non-voting resident commissioner, Pedro R. Pierluisi, the oversight hearing's purpose could be summed up in its cumbersome title: "The Need for the Establishment of a Puerto Rico Financial Stability and Economic Growth Authority."
Williams, who led the nation's capital as mayor from 1999 to 2007, is widely credited with bringing Washington back to prosperity from the brink of financial ruin. As CFO of the congressionally mandated District of Columbia Financial Control Board, he steered the city from a $355 million deficit in 1995 to a $185 million surplus only two years later.
"As CFO, I thought it was really important to put our financial affairs in order — just to get to ground zero — then restore fundamental operations like paying our bills," he said. "The fact that I was elected mayor after running the control board speaks to the success we were able to achieve."
Williams, 64, urged lawmakers to appoint a similar board for Puerto Rico to help the island out of its fiscal mess.
"Solving the immediate fiscal crisis, while absolutely essential, will not alone be sufficient to bring the island back to the position of economic self-sufficiency," he said. "Anything less robust than the work of such an authority is not going to provide a sustainable solution to Puerto Rico's serious financial challenges — and waiting any longer to see if somehow the situation self-corrects is fundamentally misguided."
In his testimony, Williams urged Congress to keep the composition of a proposed Puerto Rico financial control authority to five and no more than seven members.
"Appoint a financial executive and work day-to-day with the Commonwealth's legislature to create reliable budgets, financial plans and revenue forecasts," he advised.
Williams, the fifth home-rule mayor in D.C. history, said his control board was able to do something very important: establish an environment of success so that people would want to live and invest in the District.
"Before you ask for anything from the federal government, make sure you're cashing your checks. We had checks in bundles on the floor," he recalled. "How can you create confidence unless you're addressing fundamental government operations?"
He added: "Look at restructuring debt after you've put your basic house in order. But while you're doing that, you certainly need liquidity."
Yet Thomas Moers Mayer, a partner with Kramer Levin Naftalis & Frankel LLP, said Puerto Rico absolutely should not have access to Chapter 9 bankruptcy protection.
"It's a way to avoid reforms rather than implement them. It doesn't help," testified Mayer, whose New York law firm represents creditors who are owed money by the Commonwealth. "Lenders don't lend money in any bankruptcy situation unless they have collateral, and with respect to Puerto Rico, there is no collateral. All the money has been pledged to bondholders."
Mayer noted that the creditors he represents "live on Main Street, not Wall Street" and are "ordinary people who invest for retirement and for their children's education."
"I don't think Puerto Rico will easily recover access to the capital markets if it ever uses Chapter 9," he warned. "And I think it will have serious knock-on effects across the country."
The lawyer reminded the House panel that Congress rejected Chapter 9 protection for D.C. in the mid-1990s, when the city was going through a financial crisis, "so they established a control board, cut the size of government and the private sector flourished. Today, the District is double-A rated."
In contrast, he said, "Detroit used Chapter 9 to crush its bondholders and today has no access to municipal financing."
Also testifying at the hearing were Simon Johnson, a professor at the MIT Sloan School of Management; Eric LeCompte, executive director of the Washington-based Jubilee USA Network; and Carlos M. García, former chairman and president of the Government Development Bank of Puerto Rico.
Johnson is a former IMF chief economist and has written extensively on countries undergoing fiscal meltdowns.
"If Puerto Rico were a state, we would not be here today," he declared. "The safety mechanisms that states have are not available to Puerto Rico. As a result, when Puerto Rico started downhill, there wasn't enough force to pull it back up, and now we face an extremely serious debt crisis."
That, coupled with the out-migration of hundreds of thousands of Puerto Ricans to the U.S. mainland, will only exacerbate the problem.
"If the solution is austerity and wage cuts, more people will leave and take advantage of tax credits that are available to anyone in the 50 states," the economist told lawmakers. "But this is a serious crisis that has been growing for a long time. You need to act on legislation by the end of March. If you wait, the crisis will become considerably worse, more people will leave and the creditors will get even less."