FirstBank provides financing to Assistive Technology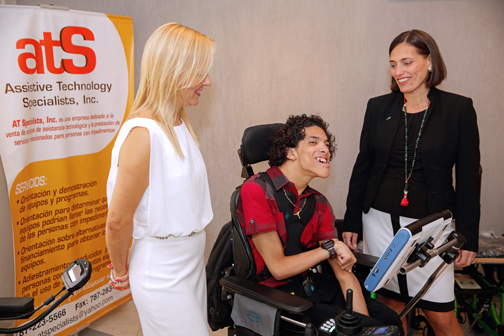 Looking to support of small and medium-sized businesses during these challenging economic times, FirstBank and the Small Business Administration jointly announced Wednesday the financing of a $226,000 commercial loan to Assistive Technology Specialists Inc., so that it can expand healthcare equipment sales and technological assistance to people with disabilities.
"At FirstBank we make every effort to enable small and medium-sized businesses to accomplish their goals. Working with Assistive Technology is particularly rewarding because, not only do we contribute to the company's growth, but in doing so, we also help persons with visual, speech, physical and learning disabilities, to receive expert assistance to achieve a better quality of life," said Mari Evelyn Rodriguez, senior vice president of FirstBank's Business Banking.
"In 2010 we provided Assistive Technology its first funding to establish the business. Today, four years later, due to their fine entrepreneurship and excellent payment history, they qualified for an SBA 504 loan toward the purchase of a new business facility. This in turn allowed them to recruit more staff to provide additional services," added Rodriguez.
The SBA 504 program provides long-term financing to growing businesses for the purchase of major fixed assets, such as buildings or equipment. Subject to credit approval, it provides term financing for up to 25 years for commercial property and up to 10 years for commercial equipment.
"I strongly recommend to all those interested in developing their own businesses, to take advantage and benefit from FirstBank's financial services. I am proud to belong to this great family and of fulfilling my dream of helping people with special needs," said Janet Carrasquillo, president of Assistive Technology Specialists Inc.