FirstBank advises students on financial planning for natural disasters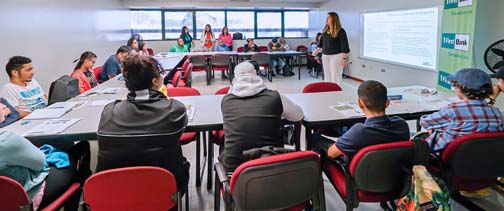 FirstBank recently conducted the first of five talks on how to financially prepare for a natural disaster to 30 students from the School of Technical Studies at Metropolitan University-Bayamón, the bank announced.
"We hope to continue having a positive impact on people, communities, and organizations through our Financial Education Program," said Catherine Ríos, community compliance and reinvestment officer at FirstBank.
"The program is both a source of protection for individuals as well as a driving force for our country's economic and social development," she said. "The current theme is very relevant given the atmospheric events that we have recently experienced on the island. Financial planning in the face emergencies continues to be a key factor for our preparation."
FirstBank's Financial Aid Program will benefit a total of 150 students from UMET campuses in Aguadilla, Cupey, Comerío, and Jayuya.
Brenda López, Santa Rosa Mall FirstBank branch manager conducted the presentation, which covered topics such as personal needs, risks, and planning aspects in the face of natural disasters, as well as financial products that can be of help during a crisis.
Students who participated in the presentation learned skills and received recommendations on how to prepare themselves, and discussed the importance of having savings to rely on in times of emergency.
To participate in, or to request talks by the Financial Education Program at FirstBank, send an email to: catherine.rios@firstbankpr.com.