Triple-S focuses on restoring health services post storm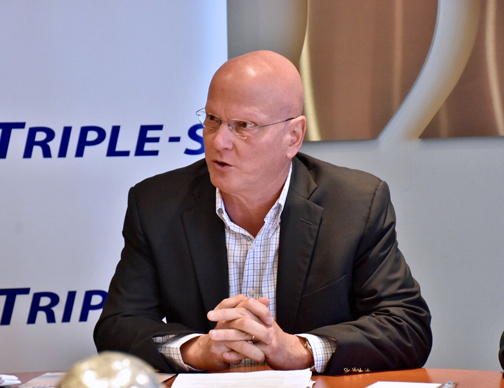 The wake of destruction left by Hurricane María demanded a refocusing on the part of Triple-S to address the pressing needs of its most vulnerable patients, providers, insured groups and communities, company officials said.
"Our priority was to restart our operations as swiftly as possible to respond to what we knew would be urgent situations of patients, providers, insureds, the healthcare system and Puerto Rico's economy," said Triple-S President Roberto García.
The first efforts were focused on meeting the needs of the employees.
"We sought to support them, ascertaining their needs, providing on-site child care, hot meals, a water oasis and financial help. This allowed us to resume operations very quickly," García said.
He added that 87 percent of medical practices in its provider network, 2,087, are operating daily, although some on a reduced schedule.
"Nonetheless, we continue looking for ways to increase the number of physicians providing services and reach out to our members, by visiting communities with clinical staff and through several Emergency Stop & Go centers set up by the government to address the needs of the people," García said.
"We changed the way we operate so that, together with our doctors and business partners, we could restore health services, an effort that has required continuous collaboration," he added.
Clinical strategy
"Immediately following the hurricane's impact, we stratified the needs of the most vulnerable patients. We set out to pinpoint the location of our patients on ventilators, oxygen and dialysis," said José Novoa, Triple-S' chief medical officer.
Collaboration with health service providers who routinely visit patients was critical in the efforts to identify their whereabouts and needs.
One of the most noteworthy efforts in this collaboration was with Fresenius, the largest operator of dialysis centers in Puerto Rico and worldwide. He said in the first days, they went with Fresenius to the Emergency Operations Center to coordinate, together with the state and federal government, the operation of transporting dialysis patients who had not received treatment.
Among the efforts, he highlighted the coordination with the National Guard so that patients in Vieques could be flown out to receive dialysis treatment when the generator stopped working at that island's CDT, where a Fresenius dialysis center is also located.
"It was arduous work in collaboration with Fresenius and the federal and state governments, but we managed to contact 100% of our patients and ensure that their treatment, which is given three times a week, could continue," the doctor said.
In Puerto Rico, there are 6,000 dialysis patients, and nearly 1,000 are Triple-S members.
Together with Fresenius, they called on the authorities to ensure that priority is given to supplying diesel to dialysis centers, as is the case with hospitals, since the life of the patients would be in danger in the absence of fuel to operate their generators.
For his part, Carlos Torres-Sierra, director of market development at Fresenius Kidney Care Puerto Rico, said the operation to serve dialysis patients amid the crisis caused by María, without electricity, water and telecommunications, especially during the first two weeks, marked the history of the company worldwide.
"Triple-S was the first company that contacted us to identify the whereabouts of the patients. During those first two weeks, we went to the Emergency Operations Center every day to explain the importance of locating and treating them. It became a race against the clock. And the government understood," said Torres.
"It is important for us to share the experience with Fresenius because this collaboration with them, the state and federal governments, saved the lives of our dialysis patients," said Dr. Novoa.
Providers: Resuming services
"Another significant effort has been contacting the physicians in our network, especially our groups, to see what their needs are," said Dorelisse Juarbe, senior vice president of Triple-S Salud.
She said just a few days after María's impact, Triple-S was already publishing full-page ads announcing which medical groups were in operation, thus helping direct patients to their doctors when telephones and television were not working. That information was also published on social media.
Before a month had passed, all medical groups and most of the primary doctors in its provider network had been visited. "They shared their main concerns, including their inability to bill electronically, the forced reduction in their hours of operation, mostly due to lack of water, power and telecommunications, and the problems their patients were facing with the dispensing of medications in pharmacies," Juarbe explained.
"We made an alliance with Assertus, an electronic billing clearinghouse. They set up several centers to facilitate electronic billing for those providers that do not have connectivity, including at two of our offices located in Caguas and at our headquarters on Roosevelt Avenue," added the executive.
Triple-S network data
87% of medical offices, 2,087, are operating daily.
89% or 54 of the 61 hospitals in Triple-S' network are in operation.
81% of the 1,051 pharmacies are processing prescriptions.
122 clinical laboratories are in operation.
Triple-S is delivering medical supplies to the company's 39 medical groups serving its Medicare Advantage and Medicaid segments, García said.
That effort is the result of aid being channeled through Triple-S and comes from other member companies of the Blue Cross Blue Shield Association. The next batch of boxes to be distributed were donated by Florida Blue and they include gauzes and other products frequently used in medical offices, he added.
For those who are not able to open their offices, the company has made available several Stop & Go centers, including three in the metro area and one in Manatí.
"Some of our groups have expressed the desire to go into the community to assess medical needs and we have been joining them, as was the case in Vega Alta," said Novoa.
Community pitched in
On the other hand, Triple-S has reached out to the Blue Cross Blue Shield Association and other business partners in the United States to channel approximately $2 million towards the recovery effort in Puerto Rico. Standouts in this effort include the Blue Cross Blue Shield Foundation and Blue Cross Blue Shield Association member companies, Highmark, Florida Blue, Arizona, Louisiana and Massachusetts, as well as Triple-S' business partner, Optum.
Triple-S has also worked with the Bechara Foundation and AARP to deliver donated provisions to those who were most affected. More than 100 Triple-S volunteers have helped in the sorting of donations at the Roberto Clemente Coliseum collection center to be distributed to communities in need.
The Triple-S CEO explained that the company is among the founding partners of Unidos por Puerto Rico and, as a board member, has been actively involved in the organization's efforts. In addition, they have supported the government's efforts in Congress to secure funds for Puerto Rico.
"The devastation left by María has required a continuous reassessment of how to address the healthcare system's needs in a wide-ranging and protracted crisis," said García.
"That includes Congress' public policy in regards to Puerto Rico. The lessons continue and we will go on making the adjustments that the new circumstances require," he added.