Fortuño unveils $9.26B budget for fiscal '12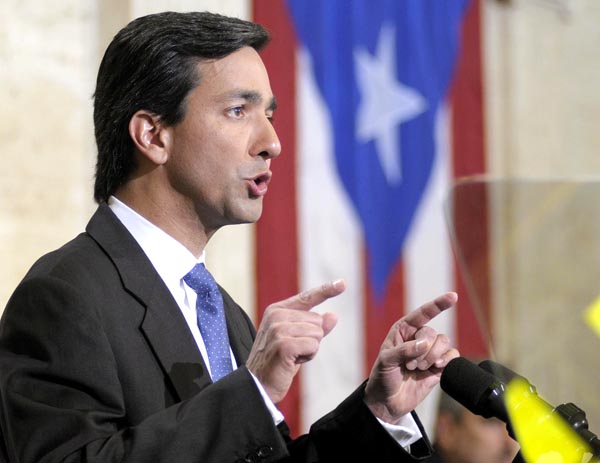 Gov. Luis Fortuño announced Tuesday his administration's proposed $9.26 billion budget for fiscal 2012, which is $110 million higher than the one currently being spent that expires June 30.
In a message delivered from the Capitol, Fortuño said the budget allocates increased funding for education, public safety and health, but will still show a $600 million deficit, or about 7 percent.
"The main reason why this year we will allocate more money to priority areas such as public safety, health, agriculture and education, is that the projected revenues for next year have increased," he said, referring to revenue being generated through the temporary 4 percent tax levied on foreign corporations and the government's crackdown on sales and use tax collections.
That tax, which expires in 2016, is expected to shore up about $1.2 billion for the government each year. Meanwhile, the governor attributed the increase in revenue to the public coffers to "a tangible progress in the economic recovery."
"The economy is improving. We've been seeing it in all indicators: retail sales are increasing, car sales are increasing, home buying is accelerating, we are consuming more bags of cement — which means that construction is improving — and thousands of new jobs in the private sector have already been created," he said, while predicting a 20 percent increase in revenue related to the sales tax and other unspecified retail activity.
His comments regarding job creations drew immediate reaction from at least one local economist, who questioned his perception of reality.
"What I see is a 16 percent unemployment rate, and the lowest participation in the workforce the island has seen in centuries," said Economist Heidie Calero during a televised interview. "If there were more jobs, as he said, that participation rate, which is now 41 percent, would be higher.
During his message, he blamed the government shutdown in 2006 as the cause of the protracted recession the island has been experiencing since then. However, Calero said the true detonator was the end of Section 936 benefits that same year.

Budget breakdown
Public safety – The Puerto Rico Police's budget for fiscal '12 is slated at $759 million, or $29 million more than the current budget. The Justice Department would get $138 million, representing at $10 million raise. The earmark would cover the appointment of 36 new prosecutors, and Special Bureau of Investigations staff.
Health – The Health Department stands to receive $286 million in funding, a $42 million hike from its current budget. Meanwhile, the government's health care plan, Mi Salud, stands to receive nearly $2 billion, to among other things, add 100,000 new beneficiaries.
Agriculture – The Agricultural Services and Development Administration, the Agriculture Department's operating arm, is poised to receive $76.5 million for incentives, plus another $4.2 million to improve coffee farms and launch a pilot program to develop accommodation centers for migrant coffee collectors. The agency has scheduled a press conference Wednesday to provide further details on those plans.
Water – The Puerto Rico Aqueduct and Sewer Authority will receive $183 million to, among other things, eliminate a rate increase pending since the previous administration.
Education – The Department of Education will receive more than $2.2 billion, or $134 million more than the current fiscal year. The money will be destined to improve special education, expedite infrastructure improvements, beef up security and strengthen the Puerto Rican aptitude test program.
Energy – During his message, the governor announced the signing of an executive order to extend the energy emergency declaration currently in effect to be able to continue moving renewable energy projects forward. That includes the controversial Vía Verde natural gas pipeline project.
During his speech, Fortuño, who is a Republican, took a jab at the Obama administration, saying Puerto Rico has done a better job managing its finances.
"They're doing now what we did two years ago," he said, referring to the cutbacks announced last week during budget negotiations. To this, Calero said that "thanks to the fact that the Obama administration has incurred in more deficit is the reason why we've been slowly been able to pull out of our recession. We wouldn't have been able to without American Recovery and Reinvestment Act funds."
To read full Fiscal '12 budget proposal, CLICK HERE