Foundation for P.R. participates in P3 conference in DC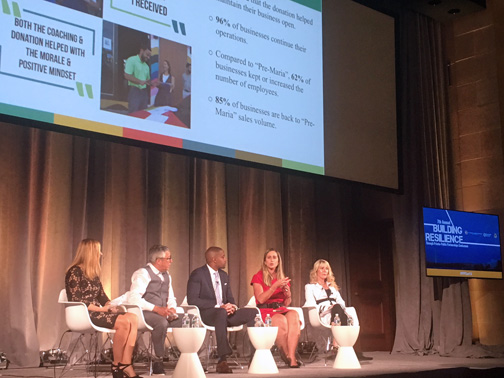 In a vote of confidence for its innovative projects that are helping to stimulate Puerto Rico's economic rebound following the devastation of Hurricane María, the U.S. Chamber of Commerce Foundation selected Foundation for Puerto Rico President Annie Mayol to address the 7th Annual Building Resilience through Private-Public Partnerships Conference held in Washington, D.C. this week.
Mayol was the only representative from Puerto Rico slated to speak at the conference, which featured top public and private sector leaders from throughout the United States, including U.S. Secretary of Homeland Security Kirstjen Nielsen, FEMA Administrator Brock Long and Siemens USA CEO Barbara Humpton, among others.
"The Foundation for Puerto Rico's two main post-María recovery projects, the Small Business Cash Grants Program and the Bottom Up Destination Recovery Initiative, have both made a tangible difference in making it possible for businesses and communities across the island with the highest impact on tourism to Puerto Rico to bounce back, and become more resilient in a self-sustaining way," said Mayol, who was featured on the conference panel "Business Helping Business – Supporting Small Businesses Immediate Recovery."
The Foundation's Small Business Cash Grants Program, which provided 200 businesses in 11 island municipalities with more than $500,000 in cash grants, is currently expanding to include additional assistance to foster resilience to withstand future catastrophic events.
Meanwhile, the Foundation's signature Bottom Up Destination Recovery Initiative, which initially targeted the island municipalities of Orocovis, Humacao, Aguadilla and Isabela, aims to expand to 50 additional communities across the island.
The Bottom Up Destination Recovery Initiative works with local businesses and communities to provide the support necessary to attract more visitors, with each community developing and implementing a comprehensive destination plan that generates a better tourism offer, along with new investments that spur self-sustaining growth.
The first phase of the Initiative's initial pilot project in Orocovis, for example, was completed in May of this year and resulted in rebounding sales for targeted businesses, along with the installation of five water cisterns, 100 water filters and 81 solar lamps, among other improvements.