Claro unveils eco-friendly, next-generation technology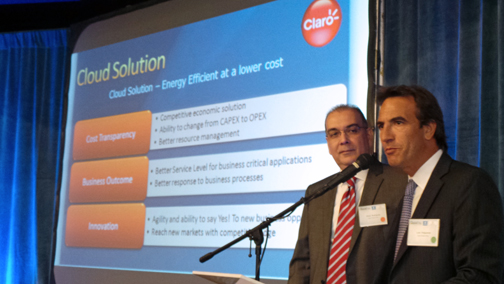 Telecommunications provider Claro Puerto Rico recently unveiled a range of next-generation services focused on preserving the environment, including high-efficiency equipment.
The new portfolio of products were unveiled during the Puerto Rico Manufacturers Association recent Corporate Environmental Summit, when Claro highlighted its Data Center and Cloud Solutions systems, designed based on Performance Optimized Datacenters standards that pursue reducing CO2 emissions. This innovative technology helps increase energy efficiency, performance and cost effectiveness; elements that contribute to competitiveness, Claro said.
"Through this type of initiative, which combine technology and environmental preservation, Claro boosts Puerto Rico's economic development by concentrating efforts on energy efficiency, environmental sustainability and investments by local firms," said Luis Felgueras, director of Claro Empresas.
During the event, Claro hosted a booth featuring several of its corporate projects that pursue environmental sustainability, such as its digital eBill system that cuts backs on the use of paper, as well as initiatives directed toward better use of materials, energy conservation, and waste reduction, re-use and recycling.