Genera PR, Polytechnic partner to boost education in energy sector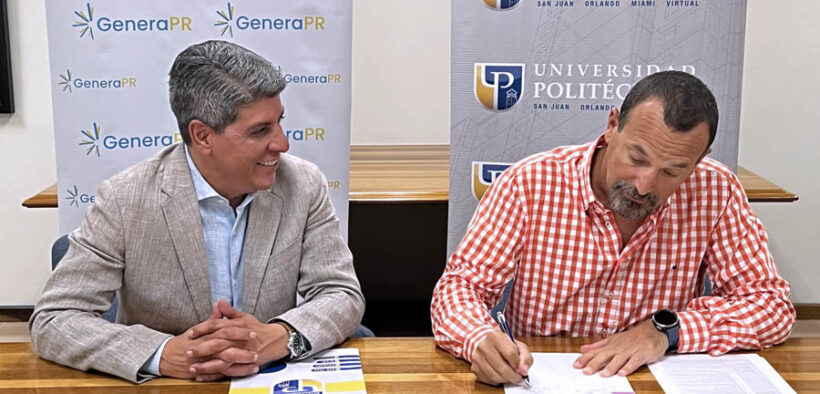 Genera PR, which oversees Puerto Rico's power plants, and Polytechnic University of Puerto Rico (UPPR, in Spanish) have signed a collaboration agreement that seeks to promote education, innovation and research.
As part of the agreement, a series of initiatives have been established that range from direct student access to Genera PR facilities to scholarship and internship programs that will allow young talent to enter the energy and engineering fields.
The partnership is intended to foster collaboration in research projects, the exchange of knowledge and the promotion of social responsibility, as well as encourage ongoing education for company employees.
"We're committed to collaborating with Polytechnic University in this very important initiative. Our industry is constantly evolving, and it's essential to promote the training of future professionals," said Iván Báez, vice president of Public and Government Affairs at Genera PR.
"With this alliance, we're committed to sharing knowledge, providing learning opportunities and contributing to the advancement of the energy sector. In addition, our employees will benefit from continuing education programs at this educational institution," he said.
One of the most notable aspects of the partnership is the coordination of technical visits, during which Genera PR will open its facilities so that students can experience up close the reality of power generation and the technologies in use.
This field experience will strengthen students' theoretical background and give them a unique perspective on the energy industry, officials said.
The collaboration between Genera PR and the UPPR also includes the creation of a scholarship and institutional development program. This initiative seeks to support the academic and professional development of young talent, enabling them to access comprehensive training geared toward the sector's needs.
"We're at a historic moment where technology and innovation are advancing at an accelerated rate, so it's imperative to unite the academy with the industries to guarantee that students and employees grow and evolve in the same way," said UPPR President Ernesto Vázquez-Martínez.
"This collaboration agreement will allow us to prepare our students according to the current needs of the energy sector and update the knowledge of employees in that industry," he added.
UPPR students will have the opportunity to participate in an internship program at Genera PR, which will enable participants to apply the knowledge acquired in the classroom and become familiar with the operations and technologies of the energy sector.
The initiative also includes a learning program for Genera PR employees, offering specialized guidance for continuing education.