González: PR has received $626M in federal assistance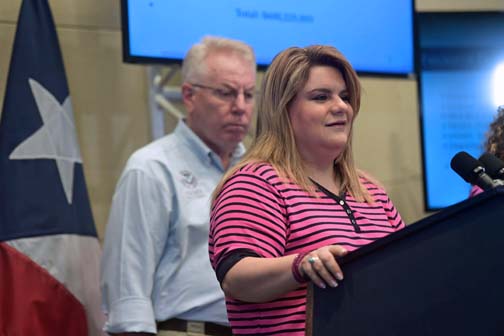 Puerto Rico has received more than $626.7 million in funding from the U.S. government in the past month to manage the emergency brought on by back-to-back storms Hurricane Irma and María, Resident Commissioner Jenniffer González said.
The initial funding covers equipment and personnel on aspects such as disaster loans, funds to individuals, without operating costs effort as the installation of hospital, logistics and rescue missions hospitals, among others.
More than 10,000 Puerto Rico individuals and homeowners who suffered losses from Hurricane Irma, have filed applications for funds offered through the Federal Emergency Management Agency, which has approved $1.1 million; while Hurricane María applications reach 835,206 so far, with a disbursement of more than $113.2 million.
FEMA has also approved more than $327 million in funding for public assistance programs under categories A for debris removal and B for prevention and maintenance work related to Hurricane María and $12.2 million related to Hurricane Irma.
Meanwhile the U.S. Small Business Administration has received 1,145 applications for disaster loans granted. The agency has approved $2.3 million in loans so far, she said.
"My office is working with on informative announcements with the SBA on how to apply for these loans and where to apply for temporary jobs the agency is offering," said the commissioner who added that this week the SBA will visit Cidra, Canóvanas, Arecibo, San Germán and Guayanilla to offer orientation on loans.
Meanwhile, she said U.S. Department of Agriculture Secretary Sonny Perdue conformed that the Commodity Credit Corporation (CCC) is providing up to $12 million to allow the owners of 253 dairy farms in Puerto Rico buy food for their livestock.
The special initiative, only for Puerto Rico, is called the "Livestock Assistance Program for Puerto Rico" (DAP-PR). The program will be administered by the Farm Service Agency, which has offices and staff on the island.
During the briefing, González confirmed that the U.S. Department of Housing disbursed more than $71.1 million under various programs, and the U.S. Department of Transportation another $42.5 million.
The U.S. Department of Defense has sent 14,655 troops, FEMA has 1,905 employees, and the U.S. Department of Homeland Security, 491.
In related news, Eric King, port captain in Puerto Rico and U.S. Virgin Islands is working with Department of Natural and Environmental Resources and the Environmental Protection Agency to identify sunken vessels to remove and avoid environmental pollution.
So far, 249 sunken vessels have been identified along Puerto Rico's east and south coasts, he said.
Finally, González confirmed the U.S. Senate is scheduled to discuss today the Draft Supplemental Appropriations Disaster bill, which would allocate $36 billion for recovery costs to Puerto Rico and other jurisdictions impacted by hurricanes María, Irma and Harvey, as well as fires in the western region of the United States.
These funds are divided into:
$13.7 billion for disaster management funds;
$4.9 billion for "Community Disaster Loans" (CDLs);
$16 billion for the National Flood Insurance Program;
$1.3 billion for the Disaster Supplemental Nutrition Program for Puerto Rico that allows us to receive the Disaster Nutrition Assistance Program (SNAP), as states mediate one payment.
Congress had already approved legislation to authorize the disbursement of $15.2 billion for management and disaster recovery. Together with the current legislation, it represents a total of $51.7 billion approved by Congress for Puerto Rico's recovery process, she said.