Gov't officials: Puerto Rico could be added to SNAP this year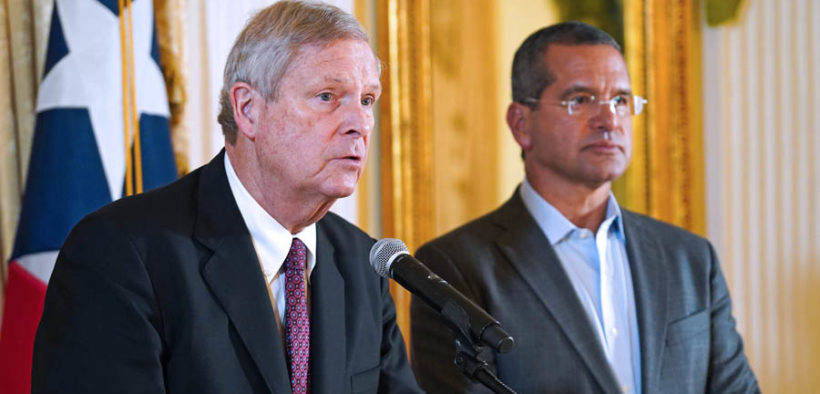 Puerto Rico could be included in the Supplemental Nutrition Assistance Program when the Farm Bill is reauthorized this year, said Gov. Pedro Pierluisi and US Department of Agriculture Secretary Tom Vilsack during a news conference in San Juan.
They met as part of the work of the Economic Dialogue initiative, created under the administration of U.S. President Joe Biden, with the purpose of continuing to establish strategies and actions that promote economic development on the island.
According to the Food and Nutrition Service, as of Dec. 9, 2022, the Nutrition Assistance Program (PAN, in Spanish) directly impacts 837,666 households for a total of 1.5 million people in Puerto Rico. The inclusion in SNAP would bring more benefits to the island.
" Vilsack's visit is another example of the continued support Puerto Rico is receiving from the federal government to ensure that American citizens residing on the island have equitable access to the resources they need to thrive and recover from natural disasters and the pandemic," said Pierluisi.
"In addition, I have asked to continue to increase technical assistance to our government to ensure that we are participating in all U.S. Department of Agriculture programs," said Pierluisi.
As part of the meeting, they also discussed the need to add staff to the Farm Service Agency, to make it easier for farmers on the island to receive assistance from that agency, as well as the $3.1 billion approved in the Infrastructure Act, which seeks to help farmers who have FSA loans.
"Our priorities include ensuring that our farmers and the broader industry benefit from USDA allocations that include $3.7 billion to cover crop losses, $265 million for repairs to aqueduct and sewer systems, and $925 million for the emergency watershed protection program," said Pierluisi.
"Vilsack has been involved in our efforts to ensure that the Department of Family, be ready to transition from PAN to SNAP and let you know that the transition must be short, because the work is being carried out in the local agency," said Pierluisi.
Pierluisi and Vilsack participated in the American Farm Bureau annual, in which they discussed the importance of agriculture for the island´s economy, which is around $850 million from crops such as bananas, yams, vegetables, fruits, milk and livestock.
During his visit to Puerto Rico, Vilsack announced the allocation of $1.2 million to the El Yunque National Forest to improve visitor access.