Guayacán picks EnterPRize competition winners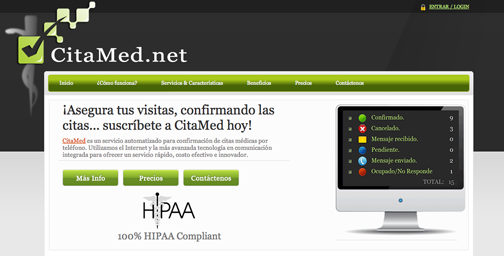 CitaMed.net, a start-up company that offers a fully automated medical appointment confirmation service for doctors appointments and other healthcare-related visits, walked away as this year's winner of the eighth annual edition of the "EnterPRize" business plan competition, sponsored by Grupo Guayacán.
The company was one of 15 Puerto Rican small businesses that submitted their business plan ideas to the venture capital fund, which launched the competition in August. CitaMed took the $25,000 first prize.
Coming in second was Manage my Nest, which grabbed the $15,000 prize for its idea to delivered innovative Cloud-based services related to property management —condos, gated communities, marinas, government housing, commercial buildings, etc.
Meanwhile, Barlovento Brewing took third place in the competition, earning $10,000 to futher its nano-brewery concept, which they describe as being "committed to the motto of producing epic ales for big tasting people," while incorporating the island's flavor identity.
Its goal is to provide a product that adds variety to the local craft beer industry, while ultimately projecting Puerto Rico's culture internationally through beer, the competitors said in their business plan description.
Coming in fourth was Memory Palace, a service that relies on patent-pending new technology to help students prepare for memory intensive exams. The plan calls for launching with a product for the Multi-State Bar Exam (MBE), the winners said.
In fifth place was Transaction Tracker, a service that would help Puerto Rico businesses keep track of sales data and generate compliance reports to avoid fines related to their responsibility of submitting monthly documentation related to sales tax and IVU LOTO collections.
IVU LOTO is a two-pronged initiative through which the government seeks to crack down on sales tax evasion by requiring retailers to use a special point-of-sale device that reports the amount of a transaction, and the associated sales, tax back to the Treasury Department. This way, the agency knows exactly how much it should be collecting.
Transaction Tracker's proposed service would help businesses lacking a sophisticated cash register to keep record of their daily transactions through a substitute method.
The fourth and fifth place winners received a certificate as competition finalists.
However, aside from rounding out the list of winners, Transaction Tracker was selected to receive a special $25,000 award from processing company Evertec, which for the first time this year agreed to provide seed funding to the best entry in the area of transactional technology. The company has also offered to help develop, implement and market the winning project in the countries in which it does business
Meanwhile, Peace n' Loaf, the first vegetarian pizzeria and artisan bakery chain in Puerto Rico established in 2010 took this year's first Top Woman Entrepreneur Award, sponsored by Doral Bank that carried a $5,000 cash prize.