Honda opens new dealership in Bayamón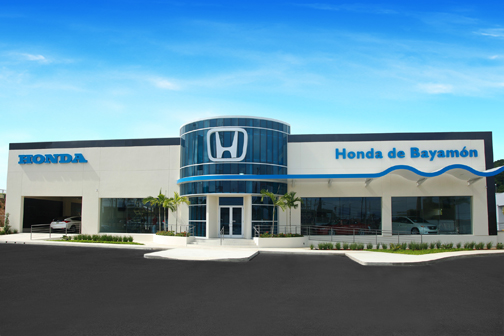 Honda recently opened a new and modern dealership in Bayamón that incorporates several design and operation systems to promote environmental conservation and efficient use of energy, said Carlos López-Lay, president of Bella Group, exclusive distributor of Honda in Puerto Rico.
"This construction project has taken ten months and has involved a huge investment. We are excited to have these extensive facilities to provide comfort and convenience to our customers and that also integrates a number of elements that protect the environment," said López-Lay, without disclosing the exact investment amount.
The new 10,843 square-foot environmentally friendly facility is located next to the Drive In Plaza mall on Rte. 2 in Bayamón. It features a showroom with the capacity to display 10 vehicles, a waiting room with computer stations with Internet access, and a children's play area, among other facilities. It also has a separate vehicle service area.
The company said the new dealership should create between 15 to 20 new jobs in the next year in addition to the 20 already on the payroll, fueled by expected sales.
For its construction, Bella integrated requirements to receive Leadership in Energy and Environmental Design certification, including energy efficient air conditioning systems, exterior insulation to reduce solar heat, a thermal-resistant façade, as well as motion-sensitive internal lighting.
"We're implementing this plan in all Bella dealership constructions and remodelings that began with the new Honda de San Juan facilities last year and now includes Bayamón," López-Lay said. "These are measures that we're promoting to help create a healthier environment through more efficient use of energy."
Bella was founded in 1963 and employs more than 500 people.