'The Points Guy' travel influencer to visit PR as part of rebuilding efforts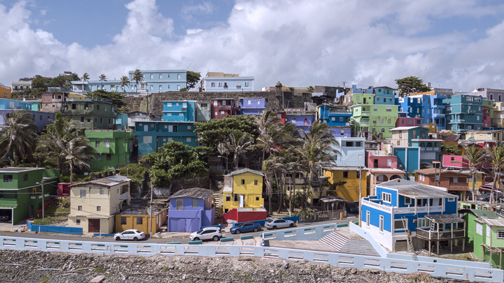 Brian Kelly, also known as The Points Guy and Forbes' No. 1 travel influencer of 2017, will be traveling to Puerto Rico from Jan. 5-7 with his staff, family and friends to assist with rebuilding efforts and experience the island's recovery firsthand, the Puerto Rico Tourism Co. announced.
JetBlue, as part of its 100x35JetBlue initiative, will be providing flights for the entire Points Guy team and joining in on the ground.
The group will provide hands-on assistance to communities, as well as participate in the festivities surrounding the Three Kings Day festival on Jan. 6.
As founder of The Points Guy, the digital platform renowned worldwide for all things points, miles and travel with 5 million unique visitors a month, Kelly knows the path to recovery that destinations go through after overcoming natural disasters.
With this group trip to Puerto Rico three months post-Hurricane María, Kelly is sending a message to travelers everywhere that visiting destinations impacted by natural disasters, like Puerto Rico, is the best way to take in the most meaningful travel experiences in the New Year.
Tourism is a key driver of Puerto Rico's recovery efforts, and with the island already open to visitors, travelers can best support these efforts by visiting, staying at hotels and other accommodations, eating at restaurants and buying from local businesses.
"We're thrilled with the hands-on support from The Points Guy and appreciate his help reminding travelers that now is a perfect time to visit. Reactivating the local economy through tourism is essential," said Tourism Co. Executive Director José Izquierdo.
The agency chief said more than 100 hotels are already taking reservations, more than 4,000 restaurants are open for business and 107 tourist attractions are operating.
"We want to be a part of Puerto Rico's comeback and look forward to helping the community get back on its feet," Kelly said.
"Travel is all about purpose, which is one of the very reasons why I chose to travel for a living — it's centered on the meaningful experiences we take in, such as this special volunteer trip we are organizing with my entire team," said Kelly.
"Puerto Rico has so much to offer travelers, from beaches to culture, to art and cuisine, so deciding to do this was a no-brainer," he added.
The trip will include a visit to San Juan, where in partnership with Love in Motion — Local Guest's nonprofit focused on providing the necessary tools and empowerment through hope and education for the development of community-based tourism in the Caribbean region — and in collaboration with the Asociación Impacto Comunitario La Perla Inc., Casa Sol and Wanderlust Tours, the team will join local efforts already underway to help revitalize the iconic La Perla neighborhood.
La Perla has become a tourist attraction for visitors looking to get a glimpse of this colorful community along the shore of Old San Juan where the record-breaking summer hit song "Despacito" was filmed.
Lastly, the trip coincides with Puerto Rico's celebration of Three Kings Day on Jan. 6, one of the most important holidays on the island, especially for children. Three Kings Day will be particularly special for Puerto Ricans this year, and families will enjoy parades and festivals throughout the island, the Tourism Co. said.