Finca de Rústica wins 'Journey to Business Success' prize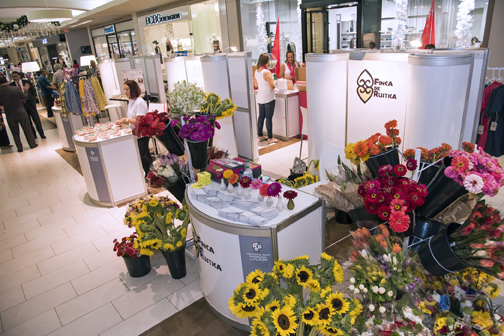 Naguabo flower producer Finca de Rústica emerged the winner of the "Journey to Business Success" competition sponsored by Plaza Las Américas and Mastercard.
Spouses Amaury Ortiz-Quiñones and Sofía Cáceres run the farm, and will now have the opportunity to open sell their unique flowers out of a cart in Plaza Las Américas, free of charge for six months, and will receive a Mastercard for $10,000.
The entrepreneurs will also have the opportunity to receive support and guidance for incentives and loans from the other partners in this business competition, Puerto Rico Trade and Export and the Economic Development Bank, which will offer the winners the opportunity to receive a credit of up to $3,000 to be applied to closing costs at the EDB, subject to compliance with applicable requirements and credit approval.
The entrepreneurs harvest unique and unusual flowers on their farm and seek to have them available for sale to customers of Plaza Las Américas in the freshest way possible. The farm focuses on producing seven varieties of sunflowers, zinnias, millet, amaranth, gladiolas and cosmos.
"At Plaza Las Américas we welcome Finca de Rústica and we wish them every success in this new phase," said Jaime Fonalledas, president of Plaza Las Américas.
"We're proud that these young people will be part of what Plaza generates from its commitment to support local talent," he said.
As part of the prize, the winners will also receive mentoring from a business consultant during the establishment of the cart and the first months of its operation. It is expected that the Finca de Rústica cart begin operations in April 2017.
"It was very exciting to see the level of enthusiasm from local entrepreneurs this year," said Manuel Catedral, general manager of Mastercard Puerto Rico.
"This program is a true reflection of our ongoing commitment to supporting entrepreneurship in Puerto Rico across platforms that open the door to new opportunities that undoubtedly are priceless," he said.