ManpowerGroup's survey shows rising hiring trends in Puerto Rico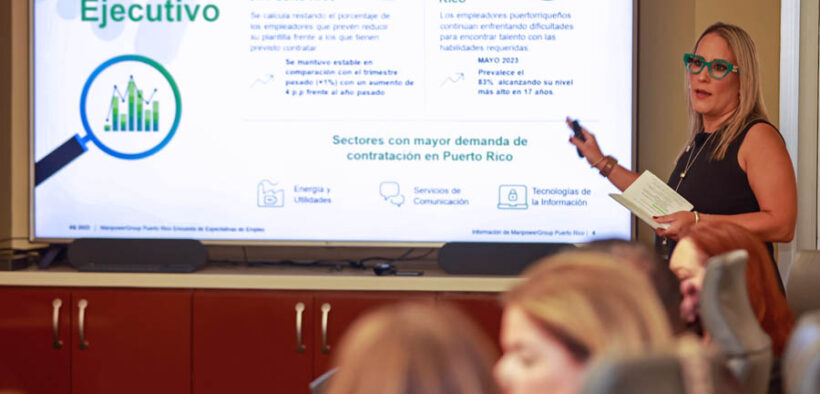 Staffing firm ManpowerGroup has released its latest employment outlook survey (MEOS) for the fourth quarter of 2023, highlighting that the net employer hiring outlook in Puerto Rico is of 36%, said Vialys Rivera-Ruiz, customer relations director for ManpowerGroup in Puerto Rico, during a media event.
The MEOS revealed that employers' hiring intentions for the upcoming quarter are greater than during the previous one.
This recent MEOS edition found that in Puerto Rico, 48% of employers aim to expand their workforce, 34% do not anticipate any changes, 12% anticipate reductions, and 6% are uncertain.
Rivera-Ruiz noted that the current net hiring trend is 36%, a slight increase from the third quarter's 35%. This ranking puts Puerto Rico seventh among 41 countries, tying with the United States, Mexico, Guatemala, Peru and Singapore. The global average is 30%.
The June survey indicated a 35% hiring trend. A year ago, in September, it was 32%, marking a 4% annual rise.
"Since we started conducting the MEOS survey in Puerto Rico a year ago, we have seen an upward trend in hiring expectations," Rivera-Ruiz said. "It is important to note that this need to hire employees is also accompanied by a high difficulty in finding talent (83%), according to the talent shortage study from last May."
The employers with the highest hiring intentions this quarter belong to the energy and public utilities sectors at 63%, a 33% increase from the last period. In this category, Puerto Rico ranks fourth, 9 percentage points above the global average.
The communication services sector has a 58% hiring trend, followed by the information technology sector at 57%. The survey also includes industries such as transportation, logistics, automotive, finance, real estate and life sciences as well as health, manufacturing, and consumption and services.
"All nine sectors have positive hiring expectations this quarter. These data are very important because it brings many opportunities for those looking for work in Puerto Rico," Alberto Alesi, ManpowerGroup's general director for Mexico, the Caribbean and Central America, said.
By company size, micro-enterprises have the highest hiring intention for the fourth quarter, at 56%, followed by medium (51%), small (37%) and large (21%) companies.
Geographically speaking, employers with the highest hiring intentions are in the island's central region at 55%, with the east and north at 37% each.
Rivera-Ruiz explained that in the fourth quarter of last year, when the survey kicked off in Puerto Rico, micro-enterprises also had the highest hiring expectations, and the top sectors were trade, banking, finance and real estate. The central and eastern regions were where employers had the highest expectations for the same date last year.
Mónica Flores-Barragán, president for Latin America at the multinational firm, said that countries in the Americas are reporting positive fourth quarter employment prospects, with improvement in seven countries quarter over quarter and in five countries compared to the same time last year. Costa Rica leads globally at 41%, followed by Brazil at 38%.
Flores-Barragán further noted that hiring intentions must be viewed in the context of the existing difficulties in finding talent, given that in 2023, four out of five employers worldwide report having difficulty finding the talent they need. This represents a 2 percentage point increase compared with the previous year and has been doubling since 2015 (38%).
"In the [Latin American] region, talent shortage is at 77%, which means that seven out of 10 employers have difficulties finding the talent they need. In Puerto Rico, 83% of employers report difficulties finding the talent they need," Flores-Barragán said. "As all aspects of life become more technological, human strengths stand out in the digital era. The top five soft skills in demand in Puerto Rico are collaboration and teamwork, reliability and self-discipline, creativity and originality, reasoning and problem-solving, and learning and curiosity."
She pointed out that when faced with talent shortages, training and updating are fundamental tools to retain and adapt talent.
Nontraditional applicants
Flores-Barragán said that the 2023 Talent Shortage Study concluded that employers in Puerto Rico are broadening their search and considering nontraditional applicants. This includes older individuals seeking work or changing careers (29%) and those who have faced extended unemployment or caregiving responsibilities (26%). Key productivity drivers in Puerto Rico are clear goals (39%), professional growth (36%), positive work culture (34%), and tech efficiency (20%).
Rivera-Ruiz concluded by emphasizing the importance of embracing the evolving work landscape.
"It is up to everyone to contribute to the future of work. The transformation of the work world is a reality: Understanding and thinking outside the box is a great start that leads us on the path to success," she said.
The MEOS has been conducted independently since 1962 and covers 41 countries. The Puerto Rico sample included 510 employers, who answered only one question about whether they expect to increase or decrease their workforce for the next quarter. The survey is conducted via email and its participants come from various database providers with contacts from managers of representative companies from all industries, company sizes and specific regions of each country.