Medtronic opens new operations in San Juan, which grants tax decree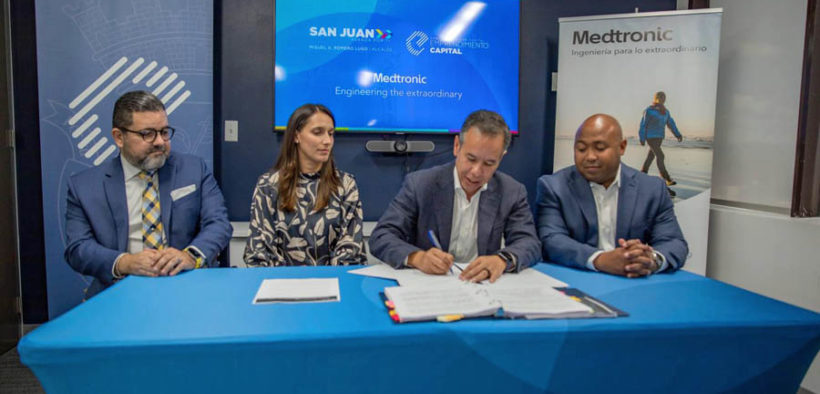 Medical device manufacturer Medtronic recently opened a new facility in the Municipality of San Juan, where it employs 116 people to manage its sales office and diabetes education center.
In a news conference, San Juan Mayor Miguel Romero confirmed that the municipality granted tax incentives that favor the establishment or expansion of companies in Puerto Rico, such as Medtronic, which will be in Río Piedras.
"This decree not only fosters the creation of new jobs in San Juan, but also solidifies this company's commitment to the community by providing services to patients with complex diseases, and affirms its willingness to continue investing in human resources to make it more skilled and competitive," Romero said.
In addition to the criteria of location, investment, and direct and indirect job creation, the decree is conferred considering other qualification parameters, including the commitment to create new job opportunities and internships for residents and students of the municipality, as well as to invest between 13% to 17% in additional talent over the next five years.
The company contemplates an investment of $1 million to $1.4 million with the possibility to strengthen its organizational structure, and that will include initiatives for the development of local talent and healthy communities.
"Medtronic has been in Puerto Rico for more than four decades, and we're proud to see how our growth plan has expanded our commercial presence here, contributing to the health of Puerto Ricans and the island's economic development," said Anthony Ruiz, finance director at Medtronic.
Manuela Uribe, manager of Medtronic in Puerto Rico and the Caribbean, said that "the strengthening of our commercial operation in San Juan reaffirms our commitment to continue delivering technologies that transform lives, fulfilling our mission of relieving pain, restoring health, and extending the lives of thousands of patients on the island."
So far during this administrative term, the Municipality of San Juan has issued 21 decrees that have generated and retained 624 jobs through a joint investment of $12 million of private capital made in San Juan.