Microsoft opens $37K learning center in Dorado library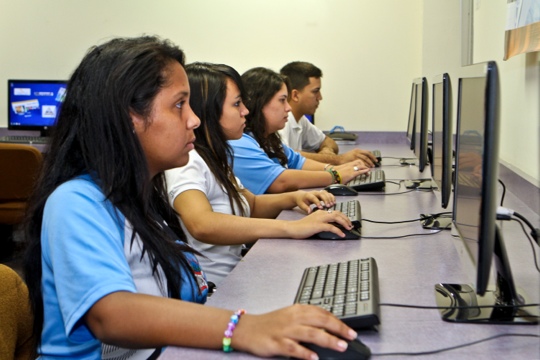 Software giant Microsoft, in cooperation with nonprofit organization Trust for the Americas, recently donated $37,000 to open a new learning center at the Jane Stern Dorado Community Library.
The center, known as the Opportunities for Employment through Technology in the Americas Program, or POETA for its initials in Spanish, "seeks to contribute to community development and education in unfavorable economic circumstances, and bring opportunities for disadvantaged populations through technology," said Vanessa Ramirez, programs manager for the Trust for the Americas, an organization affiliated with the Organization of American States.
"In this way we hope to encourage other companies to support the OAS's work to promote citizen safety through a culture of prevention throughout the hemisphere," she said.
The support the library is receiving from companies and nonprofit is helping the library perpetuate the social work it has been doing since 1974, said Anne Chevako, co-manager of the Jane Stern Library.
"Besides having a large volume of information, training materials and references, we support the community, especially young adults who need to retrain to meet the labor challenges of the 21st century," Chevako said. "With this donation, Microsoft can rest assured Dorado's youth will be exposed to a number of services that will have a positive impact on their employability."
Meanwhile, Yamille Morales, director of new technologies for Microsoft, said the company has been forging alliances with governments, nonprofit, educators and other industry leaders to "deliver technology training opportunities to youth, especially those in marginalized communities."
One of the most successful alliances created thus far, she said, is the POETA program.