MIDA survey shows consumer shift from grocery store to restaurant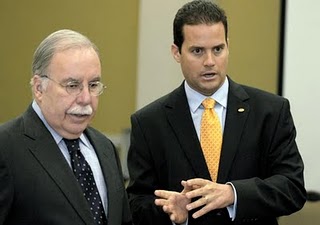 Puerto Rican consumers appear to be shifting toward eating out more than going to the grocery store, according to the results of a study commissioned by the Food Marketing Industry and Distribution Chamber released Wednesday that indicates a 12.1 percent drop in how much they spent last year on unprepared food.
The "Industry Snapshot" study prepared by analyst firm Estudios Técnicos, reveals that from January to November 2010, consumers spent nearly $4.6 billion in at the checkout line, which nevertheless represented a year-over-year reduction of $634.8 million.
The study showed lower consumption of red meats, soft drinks, vegetables, fruit, dairy products and chicken meat, versus the same period in 2009, when consumers reportedly spent $5.2 billion at the grocery store.
And while the study confirms the year-over-year drop for the 11-month period in 2010, MIDA (as the trade group is known by its initials in Spanish) said Wednesday that organization members who participated in the survey are optimistic that the situation will improve in the next quarter.
"Economic activity in the industry is still affected by the lack of dynamism in its sales, and to a lesser degree, in employment as reflected in its economic activity index of," said Estudios Técnicos President José Joaquín Villamil, adding that the downward trend in rate is driven mostly by the decline in food sales.
But while consumers seem to be spending less to stock up their pantries, the same cannot be said when it comes to eating out. The study shows that activity at cafeterias and restaurants registered a 2.5 percent annual increase, with some $3.6 billion spent from January to November 2010. That is $89 million more than the $3.5 billion spent over the same period in 2009.
The Industry Snapshot study was based on a survey of 233 food sector industries, including MIDA members and non-members, representing the areas of agriculture, food and non-alcoholic beverage manufacturing, wholesale and retail, and restaurants.
Another economic issue explored in the survey had to do with how the price of basic food items on a global level will affect Puerto Rico, particularly the low-income population. This concern is especially important because during the second half of 2010, agricultural prices had shown a year-over-year increase of 18 percent, an upward trend that does not seem to be slowing down this year.
"The petroleum prices affect the cost of food and significant increases can contribute to price increases," said Villamil.
The macro-economic impact will be limited by the fact that food is a relatively low proportion of total consumption of Puerto Ricans, estimated at 14.5 percent of the overall household expense.
However, the economist said the factors affecting those prices that do have a social impact must be monitored by industry and government..
Despite the somber global panorama and Puerto Rico's ongoing economic recession, MIDA President Gualberto Rodríguez said nearly 87 percent of the companies surveyed are keeping their fingers crossed for a positive quarter to come.
"Most respondents expect to see their sales increase or remain unchanged over the next three months," Rodríguez noted.
See related story: Survey: P.R. consumers earn less or the same vs. '10, but spend more at the register