Monllor Capital invests in first ESG-focused Qualified Opportunity Fund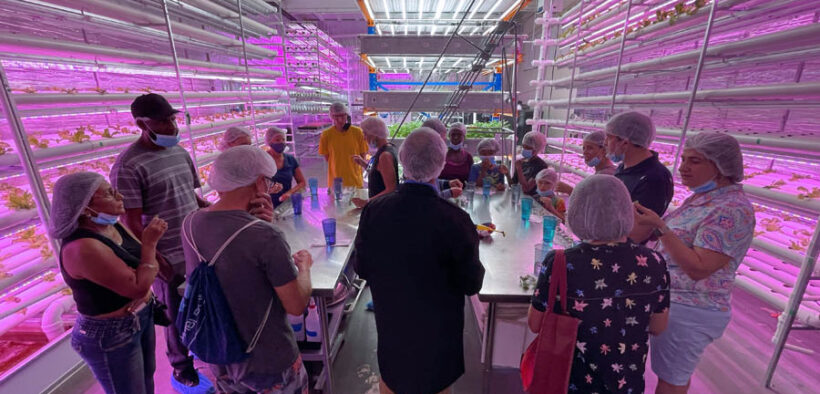 Monllor Capital Partners has invested in Puerto Rico's first Qualified Opportunity Fund focused on environmental, social and economic impact (ESG) investing. To date, the fund has invested capital in three projects: Fusion Farms, Palmas Town Center and SunBeat Energy.
In an interview with News is my Business, Monllor Capital's founder, Managing Partner José Torres, explained that the Opportunity Zone Act is federal legislation that was created under the Tax Cuts and Jobs Act of 2017.
"That law is basically trying to incentivize people who have capital gains to move their money and invest it," Torres said. "In Puerto Rico, because of the hurricanes and natural disasters, over 95% of the island was designated as a Qualified Opportunity Zone. A Qualified Opportunity Fund is a way for investors to invest in the program. So, think of it as the investor who invests in a fund and the fund then invests in a business. Some people have created the fund to be the business itself. So it can be one and the same, but there are many reasons why people don't recommend that."
Torres noted that stakeholders have a certain time period to invest capital gains. For example, if it is a stock, they have some six months to invest capital gains in the Opportunity Zone Fund.
"The fund technically only has 180 days to invest capital gains into a business," he added. "The fund has to invest at least 90% of capital gains in a Qualified Opportunity Zone business or property."
Three investments
Both Fusion Farms and SunBeat Energy are already operating, while construction should begin at Palmas Town Center by year's end. Fusion Farms is in Mayagüez, Palmas Town Center is in Humacao and SunBeat is technically located in Aguadilla, but its largest warehouse is in Carolina, Torres said. 
"We are hoping to invest in more renewable energy projects in the future," he said.
Torres explained that MSI Solar Corp. is a Puerto Rico-based technology company established to design, sell and service renewable energy products focused on the fast-growing market of energy storage for residential and commercial applications. MSI Solar operates under the SunBeat Energy brand name, he said.
Meanwhile, Fusion Farms is Puerto Rico's first indoor, hurricane-protected, vertical aquaponic farm operation. On the other hand, Palmas Town Center is a ground-up retail and mixed-use commercial real estate development located at the Palmas del Mar Resort in Humacao.
Greatest benefit
Torres emphasized that the most significant advantage of this program is that when investing in a Qualified Opportunity Fund, if the fund experiences capital gains, taxes on those gains can be deferred for 10 years.
"If you have a fund that is only one business and you sell that business and it happens before 10 years, then you don't really get that benefit because the investor didn't own that investment for at least 10 years," he explained.
The Puerto Rico government created a local Opportunity Zone Program, "basically adopting" the federal law, which must be complied with, Torres said.
"It allows for stakeholders to invest in a Qualified Opportunity Zone fund in Puerto Rico" and obtain the "same benefits from the Internal Revenue Service (IRS) through the local Treasury Department."
The Opportunity Zone Program forms part of Act 60, also known as the Incentives Code.
Torres pointed out that Monllor Capital invested in renewable energy and agriculture projects, and most of the projects did not apply for a Qualified Opportunity Zone business, "because they receive tax decrees under renewable energy or under manufacturing, for example."
He said that although the Department of Economic Development and Commerce (DDEC, in Spanish) has so far approved three Opportunity Zone projects, it does not mean there are only three Qualified Opportunity Zone businesses.
"What that means is there are three real estate deals that applied because no one who has a tax decree under Act 60 can also apply for a Qualified Opportunity Zone priority project," he said. "I wish they would make it very clear that you don't need a Qualified Opportunity Zone decree to have a Qualified Opportunity Zone business. The companies I invested in receive agriculture and renewable energy tax decrees."
SunBeat Energy, for example, is a Puerto Rican company that receives a renewable energy tax decree, he said.
"It is not receiving any Opportunity Zone tax benefits, it's the investors [Monllor Capital] that invest through our fund into SunBeat who receive the Opportunity Zone tax benefits," Torres explained. "The Opportunity Zone program goes beyond real estate deals that request an Puerto Rico Opportunity Zone decree under Act 60.
"At Monllor Capital Partners LLC, via the Puerto Rico Opportunity Zone Fund LP, we have been investing in Puerto Rico Qualified Opportunity Zone businesses since 2021. We look forward to working with the DDEC and other Qualified Opportunity Funds to help grow and promote Opportunity Zone investing in Puerto Rico."