Committed to small and medium sized businesses
[ADVERTORIAL]
Law 64-2014, also known as "The Law to support Micro, Small, and Medium Businesses", recognizes micro, small, and medium sized business owners to be the pillar of the Puerto Rican economy. The capabilities and potential of these businesses to create gainful employment is one of the reasons why the economies of the world bet on the granting of incentives for these sectors.
These business types can be distinguishable by their total income and employee count, or the combination of these two characteristics. Microbusinesses generate income less than $500,000 annually and have seven employees or less. Small businesses generate less than $3 million annually and have 25 employees or less. And finally, medium businesses are those with less than $10 million and have 50 employees or less.
In Oriental, our vision is to make it possible for our clients, employees, shareholders, and communities we serve to financially progress. We recognize the challenges small and medium sized businesses face when executing their plans, and we are ready to accompany them through the process of making these plans a reality by developing convenient solutions that will allow them to fully focus on growing their business.
We have the compromise, attitude, means of technology, dynamism, foundations, creativity, and the initiative to aid in the day-to-day management of your business.
Our My Biz Account offers client's basic access to Oriental Cash Management (OCM) and Oriental Biz app at no additional cost, commercial Photo Deposit and according to the average monthly balance maintained by the client, includes several free transactions. We also offer other packages that adapt to the needs of each business.
My Biz Account adjusts to any type and size of business and provides access to the request for Point of Sale (POS) services, the best alternative in technology and services like Clover and others.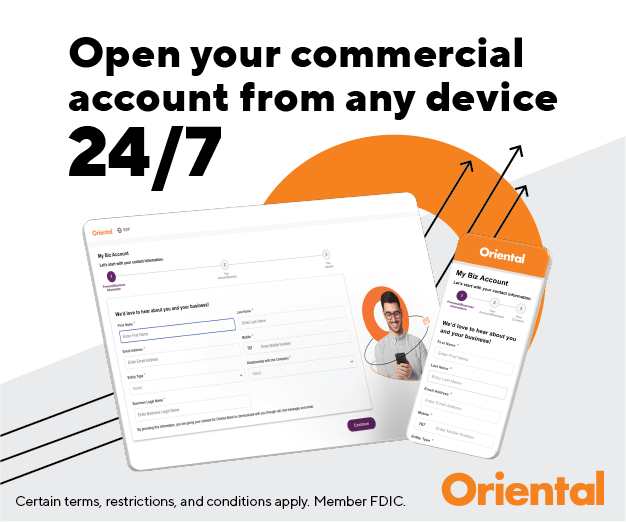 We have available advanced technology, alternatives in credit and debit card processing products. In addition, our offerings allow clients to integrate our points of sale with their business and inventory management programs and systems. In addition, now we have mobile ATH for our points of sale where the customer can pay with mobile ATH or with a debit or credit card.
The application process for the creation of an online account for commercial clients is easy, fast, secure, and can be done from the comfort of their home or workspace. To access, all you must do is go to our web portal: orientalbank.com.
In Oriental, we are committed to serve small and medium businesses because they are the driving force behind economic progress. We want to build relationships and be part of the solution that improves the quality of life of our people, moves us forward, and helps us grow together.
Our desire is to invest in our people, and we are ready to offer our full support.
Certain terms, conditions and restrictions apply to all mentioned products. The My Biz account requires a minimum opening deposit of $25. Additional charges may apply to POS services.
Oriental Bank, FDIC Member.