More fires in '11, but fewer losses for P.R.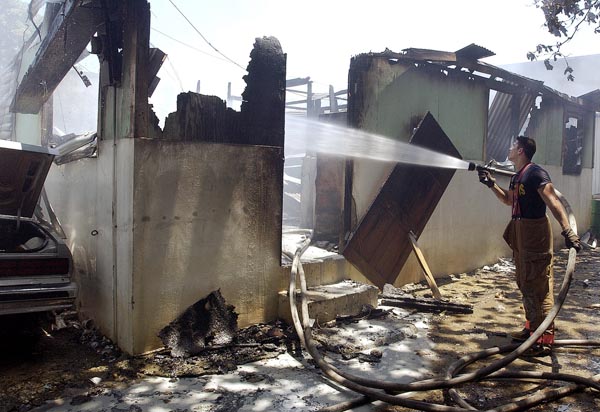 By Lorraine Blasor
Special to News is my Business
More fires were reported in Puerto Rico last year than in 2010 but they spelled out lower financial losses, according to Puerto Rico Fire Department statistics.
There were 11,673 fires islandwide in 2011 for a grand total loss of $44 million. That's 30.4 percent less than the $63 million worth of property lost in 2010 as a result of 11,262 fires, according to preliminary figures provided by Commander Pedro A. Vázquez-Montañez. Fires claimed 10 lives in 2011, one more than in 2010.
The statistics covered structural, car, forest, garbage and other fires. They shed an interesting light on recent developments.
Last year marked a record for structural fires: for the first time since the late 1990s, the number of these fires dipped below 2,000. There were a total of 1,630 structural fires in 2011, a figure that stands in stark contrast with the previous 14 years when the yearly tally oscillated between a low of 2,095 in 2010 and a high of 2,690 in the year 2000.
The same holds true for car fires. Between 1997 and 2010, the yearly number fluctuated between a high of 3,140 in 2000 and a low of 2,087 in 2010. In 2011, the number of car fires for the first time dropped to a new low: 1,818.
When asked about the improvement, Vázquez-Montañez credited the department's ongoing program of educational community meetings.
$4.7M in new trucks
In more immediate news, Vázquez-Montañez, who took over the department's helm late last year as a recess appointment by Gov. Luis Fortuño, told News Is My Business that the department is adding 18 to 21 new fire trucks to its fleet within the next two months.
The trucks, equipped with high-pressure firefighting technology, will replace older models in the Fire Department's fleet that have outlasted their utility. The total investment in this new equipment is approximately $4.7 million.
"They should be arriving between the end of April and the beginning of June," he said during a brief conversation at his headquarters in Punta Las Marías. The Fire Department operates with a current fiscal budget of $76 million and a staff of 1,838 people, of whom 1,413, or 77 percent, work as firemen.
Asked to comment on how the department was doing, the fire chief offered a succinct but sanguine assessment.
"We are doing well," he said.
Although last year's fire tally represented a spike over the previous year, the total number of blazes was actually lower than in 2,009 when 11,917 fires were reported. The 2011 statistic also fares well when compared with the previous 12 years, according to comparative figures provided by the department.
Puerto Rico's highest number of fires occurred in 2,000 when 21,601 blazes were reported islandwide. Fires claimed the lives of 15 people that year. Second highest was 2001 with 19,540 fires and 27 deaths.
Last year was a busy one for Puerto Rico's firemen who, in addition to extinguishing fires, must tackle plenty of other duties such as gas leaks (232 cases), rescues (624), downed power lines (308), spills of dangerous substances (157), first aid (433), non fire explosions (36), explosive artifacts (10). Firemen also rushed to the scene of 92 suicide attempts, aided 17 people who were struck by cars, inspected 234 fire hydrants, and helped out in 22 natural disasters, among other tasks.