New Plaza Loíza to unveil novel shopping experience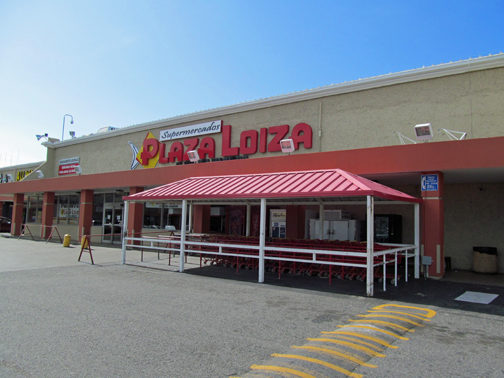 San Juan consumers are in for a novel food shopping experience when seafood & meats emporium Plaza Loíza Corp. inaugurates its newest multi-million outlet at El Norte Shopping Center. But don't expect management to let you in on its plans.
Based in a 26,000-square-foot space recently vacated by Supermercados Selectos, the outlet is scheduled to open its doors within the next two months at an investment of $2 million.
Plaza Loíza Vice President Ferdysac Márquez said the sum covers the cost of the renovation and the equipment but does not include the purchase of the store from Selectos, a figure he declined to release. The store came up for sale about 10 months ago.
"We are working hard to create a different shopping experience," said Márquez, keeping his secret close to the vest but promising that shoppers "are going to get a surprise."
Less of a secret is that Plaza Loíza is a popular, long-standing business, celebrating this year its 25th anniversary. What started out as a single outlet on Loíza Street, hence its eponymous name, has developed in the span of more than two decades into a successful chain of supermarkets that sells meat and imports shrimp and fish directly from Asia, Europe, and the United States. Twenty five percent of the products in its produce department are grown on the island. Yearly sales are in excess of $100 million.
4-year growth spurt
Much of Plaza Loíza's growth has taken place during the past four years, even as the island experienced a serious recession that gave way last year to a welcome though short lived recovery.
From three stores in 2009, the chain has grown to ten outlets.  The El Norte Shopping store brings the total to 11.
"We decided we were not going to be part of the recession," said Márquez, outlining the simple but bold management attitude that has allowed the company to push ahead in difficult times.
But it is more than just attitude. As Márquez explained it, the expansion thrust could not have been possible had the company not strengthened its financial footing through efficiency. One area the company took a hard look at was energy, a scrutiny that led to investing millions of dollars in equipment to help reign in this growing cost of business. The upshot: a 15 to 20 percent reduction in power consumption "without which we wouldn't be able to make the present investments," he said.
The company's success is also tied to its ability to reinvent itself and keep a pulse on the customer.
Earlier this year, Plaza Loíza teamed up with Ponce entrepreneur Johnny Luna Rodríguez, president of Luna Commercial Corp., in a venture that offers potential for future company growth. As part of the partnership, Rodríguez revamped the former 35,000-square-foot Ponce Cash & Carry space at Plaza Coto Laurel commercial center in Ponce and is now operating it as a Supermercados Plaza Loíza under a licensing agreement.
"We are at the stage of seeing how it works," Márquez said, acknowledging the possibility of expanding the licensing option and opening stores in other towns, with Santa Isabela possibly the next location. So far, the Ponce supermarket is doing very well and, he said, "our brand has been accepted by the South area."
The alliance also offers cost savings through the power of consolidated purchasing with consumers ultimately benefitting. As Márquez pointed out that, "we can buy at a greater volume at a better price" and the savings, he said, will be passed on to the consumer.
Customer-centric operation
Plaza Loíza places a high value on its customers, what they say and what they want, according to Márquez. He said the company uses this feedback to improve its product selection and add new services.
For example, it recently added in some of its stores an auto-care and maintenance department where clients can buy articles like oil/filter changes and maintenance products.
The El Norte Shopping Center store is actually the third Plaza Loíza outlet setting up shop this year. In addition to the Ponce store, the company also opened another store in a former Supermercados Amigo in Trujillo Alto's Ciudad Universitaria.
But it was the El Norte Shopping Center space, once occupied by a Pueblo Supermarket, that Plaza Loíza had long set its eyes on even if the building is a short distance from the company's Loíza Street store, a nearness that Márquez insists will not hurt either outlet.
He said Plaza Loíza tried to buy the store about five years ago when Pueblo stores were auctioned off in New York on the heels of that company's bankruptcy but lost out to Selectos. When the latter decided to sell the store last year, it made an approach to Plaza Loíza.
"They knew of our interest," said Márquez.
Despite last year's tenuous recovery, the island economy is not currently showing signs of growth but you won't find Márquez expressing doubts.
"The food sector continues to be strong and solid. Puerto Rico consumes a lot in terms of food," he said, pointing to the industry's importance in terms of jobs. The new El Norte store will create 80 direct jobs and another 40 indirect jobs, mostly in construction.
Food sector 'not insulated' from economic woes
Some economists appear to be less sanguine. Advantage Business Consulting Economist Vicente Feliciano told News Is My Business that the food sector is under pressure from both the economy, which is forcing some people to spend less on food, and the island's declining population.
"The food sector is not insulated," from what is happening in the economy, he said. "People still eat but they do not necessarily buy the same food."
Expect some supermarket chains to close operations and others to open new stores in a game of musical chairs "that is normal in a market that is not really growing," Feliciano said.
News is My Business was unable to reach Selectos for a comment on why it decided to pull out of El Norte Shopping Center; however, Márquez suggested it may have something to do with the company wanting to concentrate efforts on its new supermarket at the Ciudadela complex in Santurce.
"The demand for food is relatively inelastic. People must eat," said economist Heidie Calero, adding that, depending on the price, consumers may switch to less costly items to fit their budget. The success of any new food establishment, in her opinion, will depend on its location, product variety and above all service to clients.
"If the store is well lighted, it is kept clean and clients are treated cordially and serviceably, then its opportunities are good."
Statistics from Puerto Rico Trade's economic division indicate that food sales in January (the latest month for which statistics are available this year) reached $2.9 billion, slightly up from the same month a year ago, which reported sales of $2.8 billion. Sales for the meats and seafood category experienced a drop: from $316 million in January 2012 to $305 million last January.