7 nonprofits receive Angel Ramos Foundation's Tina Hills '18 awards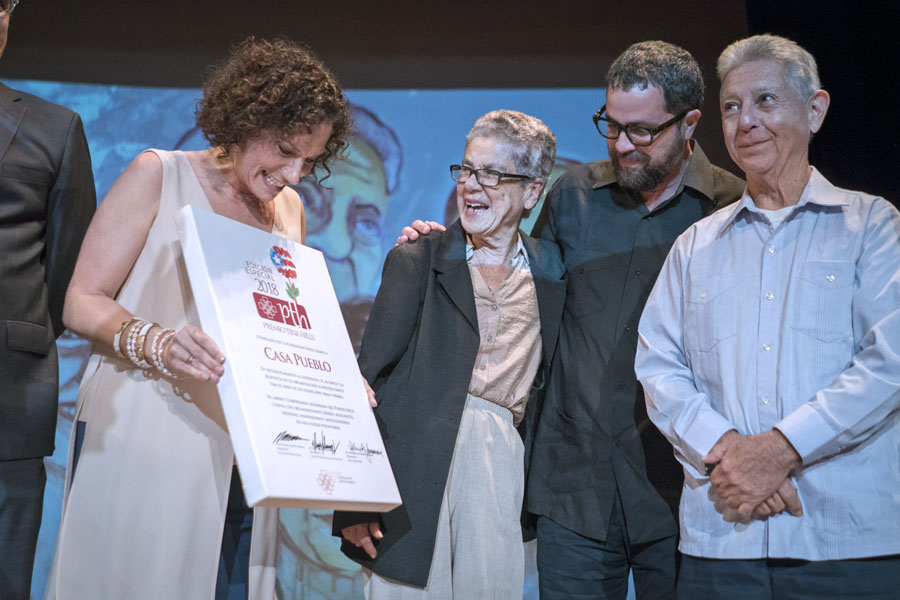 For their leadership, scope and direct response after Hurricanes Irma and María, seven organizations, of different sizes and areas of action, were chosen winners of the Special Edition of the Tina Hills Award, a recognition given annually by the Ángel Ramos Foundation.
The winning entities, which will each receive a special $50,000 donation are: Acueducto Rural Pedro Calixto, Casa Pueblo de Adjuntas, CREARTE, Hogar del Buen Pastor, Museo de Arte Contemporáneo, Programa de Educación Comunal de Entrega y Servicio (PECES) and Taller Salud.
"In this special edition we wanted to praise the excellent work done by nonprofit organizations after the devastation caused by both atmospheric phenomena. It was these organizations that served the communities and their people, especially those most in need," said Rafael Cortés-Dapena, president of the Angel Ramos Foundation.
"The commitment of each of the awarded organizations to achieve recovery and a better island deserves the sincerest recognition and our distinction," he said.
Since 1997, the Tina Hills Award has been celebrated and, each year, the career and social work of a nonprofit organization is recognized. The Foundation, on this occasion, decided to distinguish a group of organizations that offered direct response and recovery services, during and after the impact of Irma and María, in areas such as social services, health, education, art and culture, and economic development.
Previously, only one organization was rewarded with $150,000 and three finalists with $15,000. However, the Puerto Rico that emerged last year after the passage of both hurricanes led the Foundation to redefine the 2018 edition of the award, organizers said.
This special edition was attended by 116 organizations that work around the island. The award ceremony was held at the Puerto Rico Museum of Art last week and coincided with the celebration of Philanthropy Day.
"I feel a great satisfaction because all the organizations that requested this edition of the award were part of those thousands of Puerto Rican hands that without waiting for anyone, decided to save, relieve and rebuild our island," Cortés-Dapena said.
Five criteria were used to bestow the awards: the resilience to recover and respond to the emergency, the mobilization of volunteers and the development of alliances; the leadership; creativity and innovation to adapt and expand their programs and services to the needs that emerged after disasters; and, the scope and community impact.