P.R. jobless rate stands at 16.3% in July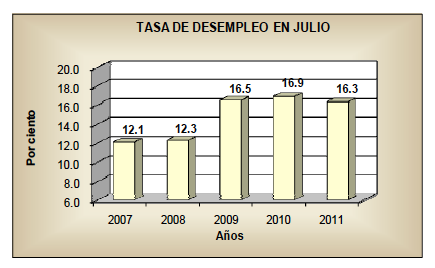 The Puerto Rico Labor Department said Friday that the island's unemployment rate for the month of July clocked in at 16.3 percent, reflecting a year-over-year drop of 0.6 percentage points, but a 1.1 percentage point increase when compared to June.
The number of unemployed people on the island was estimated at 207,000, which when compared to July 2010, represented 11,000 fewer out-of-work island residents, the agency said.
In terms of the island's workforce, the agency said 1,062,000 people were employed as of July, or about 6,000 less than the 1,068,000 people who were earning a living in July 2010.
Still, the agency reiterated growth in certain employment sectors, such as construction, manufacturing, professional and commercial services, finance and information.
Non-farming salaried employment for the month of July 2011 was reduced by 2,400 jobs, or -0.3 percent, when compared with July 2010, when there were 920,000 people in this category.
"It is worthy to note that this is the lowest yearly reduction in four years since July 2007," the agency said in a release Friday.