P.R. to host large-scale library association convention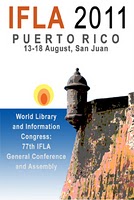 The International Federation of Library Associations and Institutions, or IFLA, will be holding its 77th annual convention in San Juan, Aug. 13-18, an event that is expected to draw thousands of participants and represent an economic boost to the island estimated at $6 million.
As a preamble to the event, the Puerto Rico Convention Bureau and the Puerto Rico Convention Center hosted a visit by IFLA President Ellen Tise, who will be on the island through Friday to finalize some of the group's details and meet with the host committee, the destination team and government agencies, the PRCB said.
IFLA President Ellen Tise and PRBC President Ana
María Viscasillas
"At the Puerto Rico Convention Bureau we feel extremely proud to bring such a prestigious international group to our destination since we have been working with the group since 2008 when [we began working] on the proposal and presented the destination to IFLA," stated PRCB President  Ana María Viscasillas. "This group represents the outcome of the established contacts with our Ambassador's Program and the pride they have when referring the organizations they belong to further develop the groups and conventions market in Puerto Rico."
The IFLA's
World Library and Information Congress will include an exhibition of library services and information available to convention-goers.
The event takes place during a month when hotels have most vacancies, so many San Juan metropolitan area hotels stand to benefit, PRCB officials said.
"The Puerto Rico Convention Center is very satisfied to be the site host of the IFLA, as it is one of the most relevant international…groups that we will be hosting this year, and for the opportunity it gives us to present to such a distinguished group of visitors from around the globe, this magnificent facility that celebrates our distinctive history and our culture," said Jaime López-Díaz, chief development officer of the Department of Economic Development and Commerce and executive director of the District Authority of the Puerto Rico Convention Center.