Para La Naturaleza to open Roosy Roads visitor's center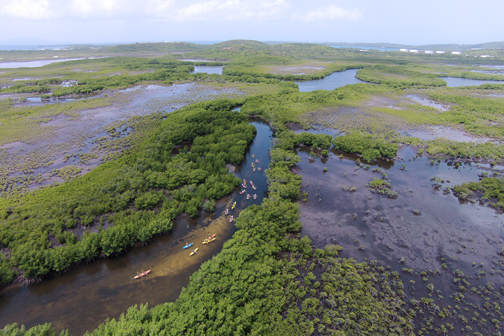 Nonprofit environmental organization Para La Naturaleza recently signed a 20-year lease with the Roosevelt Roads Redevelopment Authority to open a visitor's center at the former naval base in Ceiba.
The group will operate out of a 6,240 square-foot building located near the base's port zone that it will begin remodeling this year at a cost of $300,000, with the goal of launching services before year's end, officials said.
In all, Para La Naturaleza will manage and protect some 3,400 acres of protected lands, including Medio Mundo and Dagüao, through which it will offer tours to create awareness about protecting the environment. The lands were transferred to the Puerto Rico Department of Natural and Environmental Resources from the Navy.
"The establishment of the visitor's center represents another step forward in economic activity and the job creation efforts we're promoting, and the trust that several entities have shown during the course of this year to establish operations at Roosevelt Roads," said Malu Blázquez-Arsuaga, executive director of the Roosevelt Roads Redevelopment Authority.
So far, six small businesses and an educational entity have opened for business at the base.
Para La Naturaleza President Fernando Lloveras-San Miguel said the leasing agreement represents a "permanent presence that will allow us to better serve the residents of Ceiba and Naguabo and its visitors, but also the youth from both towns."
"We believe the recreational and learning opportunities provided by the natural environment of Medio Mundo and Dagüao are vast and part of our mission is to facilitate access to this type of experience," he said. "Having a visitor's center there will enable us to do that more efficiently."