PathStone graduates 20 students in environmental careers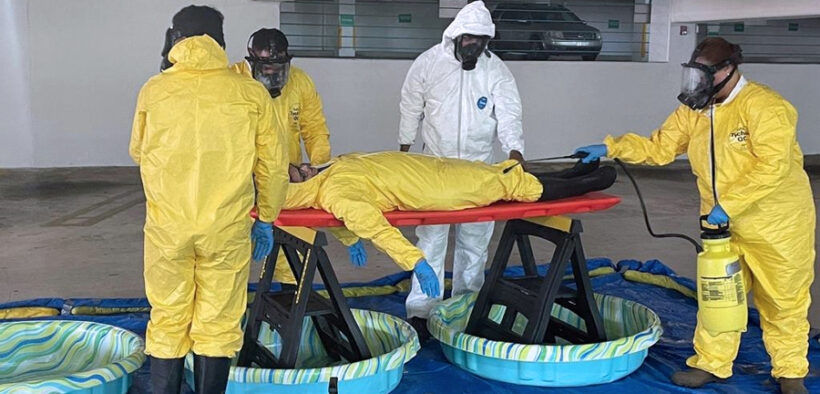 Carlos Rosado, 21, and Jhonuelle Matta, 24, enrolled in the U.S. Environmental Protection Agency's (EPA) Environmental Careers Training and Employment Program after learning about it through a friend who shared a promotion on his social media pages.
They, in turn, invited their mother, 41-year-old Sheila Ramos, to accompany them and be part of the group of participants. The trio completed the program in a record 30 days, passing all the required courses: Hazardous Materials Management (Hazwoper), Pesticide Management (WPS), Disaster Response, Forklift, OSHA 10, Automatic External Defibrillator (AED) and Cardiopulmonary Resuscitation (CPR).
The graduates participated in the Training and Employment Program in Environmental Careers, subsidized by the EPA, and which will allow PathStone Corp. Puerto Rico to train 65 residents of nine municipalities on the island, of which at least 41 are expected to find positions in environmental jobs.
The training program, which is offered free to the participants, includes 214 hours of training distributed in courses from the U.S. Occupational Health and Safety Administration, including those related to pesticide management and reduction programs for asbestos, lead and mold. Participants also take a welding course.
"PathStone is honored to graduate this group of participants because we're committed to supporting residents of environmental justice communities to get jobs that improve the quality of life for themselves and their families," said Mileidy Soto, director of Training and Employment Programs at PathStone Corp. Puerto Rico.
"With this new opportunity provided by the EPA, we are reaching the municipalities of Vega Baja, Vega Alta, Morovis, Naranjito, Cataño, Toa Baja, Toa Alta, Dorado and Bayamón with training and employment services oriented towards environmental careers," she said.
The EPA granted $200,000 to PathStone Corp. Puerto Rico to run the Environmental Careers Training and Employment Program in these nine municipalities.
"PathStone is committed to providing new opportunities to the residents of Puerto Rico. Today, we celebrate the new opportunity that EPA has given us to be able to train more people in specialized environmental areas," said Brenda Soto, vice president of Direct Services at PathStone Corp.
"In our eight years operating EPA projects, more than 458 people have been trained and prepared for an environmental career. It's an honor for us to be able to continue strengthening ties with the EPA for the benefit of the citizens who need it most. We make a double contribution: We contribute to improving the environmental health conditions of our communities and we improve people's quality of life," she said.
Since 2015 PathStone Corp. Puerto Rico has received more than $1.2 million in five grants from EPA's Brownfields Job Training Program.