Porsche Center Puerto Rico unveils 3rd generation of Cayenne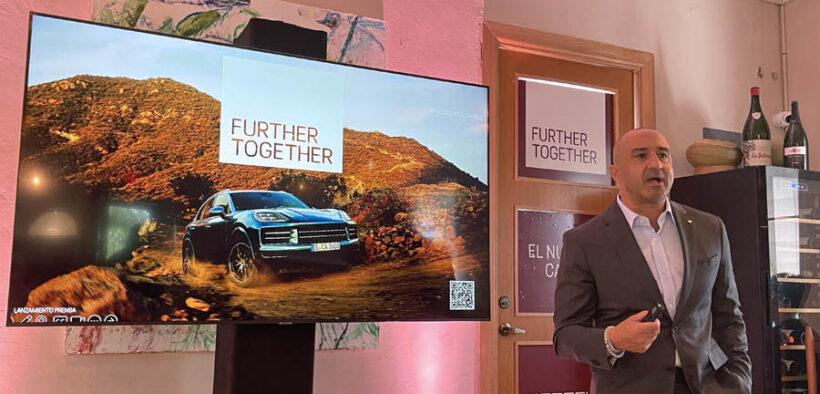 Porsche Center Puerto Rico this week unveiled the third-generation Porsche Cayenne, a luxury SUV that "represents the perfect union of superior aesthetics and performance, symbolizing Porsche's passion for innovation in automotive design."
During an event with members of the media, company executives touted the new features of the vehicle, which combines advanced technology with sleek design features.
"If you're looking for a vehicle that is safe for the family, that is functional in all aspects, a car that's for daily use for the family as well as a safe sports car that also has off-road capabilities, there is no other like the Porsche Cayenne," said Orlando Pérez, general manager of Porsche Center Puerto Rico, during the vehicle's unveiling.
The new Cayenne is available in four models: Cayenne, Cayenne Coupé, Cayenne S and Cayenne S Coupé.
Since the Cayenne's introduction to the Puerto Rico market in 2003, Porsche has sold 2,034 units, and the expectation is that number will rise significantly in 2024 with the introduction of the hybrid model, Pérez said.
"We want the Porsche Cayenne to represent at least 45% of Porsche sales in Puerto Rico," he said, noting that the model currently represents 30% of sales.
"The new Porsche Cayenne is a masterpiece of design and engineering, a perfect fusion of form and function. It is a tangible testimony to Porsche's relentless passion for excellence. Every detail has been designed with an unwavering commitment to quality, innovation and luxury driving experience," he added.
Labeled as a "game-changer" in the automotive industry, the Cayenne reflects an appreciation for aesthetic design that goes hand in hand with functionality. Its refreshed look showcases a bold yet elegant SUV design, with a host of technical enhancements that take its performance and luxury to new heights.
All Cayenne models are equipped with Matrix LED headlamps as standard. With ultra-modern HD-Matrix LED main optics, the newest lighting technology sets new standards.
The new Cayenne is initially available in Puerto Rico in two models: Cayenne and Cayenne S, with a starting price of $106,457. The sports Coupé variant will be available in three models: Cayenne Coupé, Cayenne Coupé S and Cayenne Coupé Turbo GT. The Cayenne E-Hybrid and Cayenne Coupé models will launch in the first quarter of 2024, with the Coupé's starting price at $113,056.