Ports in talks to move National Guard air facilities to Ceiba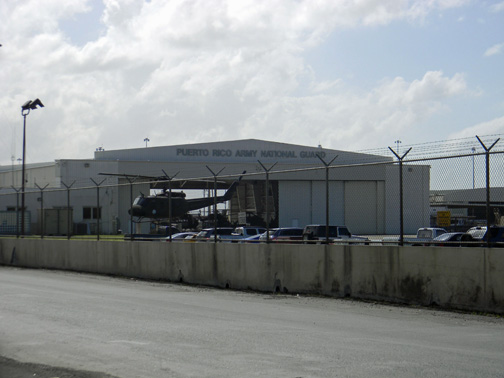 Talks are underway between the Ports Authority and the Puerto Rico National Guard to move the latter's operations out of Isla Grande's Fernando Ribas Dominicci and Luis Muñoz Marín International airports to Ceiba, to free up valuable space at the metropolitan area air transportation facilities.
Ports Authority Executive Director Víctor Suárez confirmed the plans Tuesday, saying everything is in early stages of development, but is aimed at maximizing each of the airport's revenue-generating potential, while streamlining the PRNG's local operations at the former Roosevelt Roads base.
"Isla Grande has great growth potential, but there are certain areas that we're not able to capitalize on," said Suárez, referring to the nearly 16 acres the PRNG takes up there that could be leased out to private operators.
The Fernando Ribas Dominicci airport in Miramar has historically had a military connection, as it was originally constructed by the U.S. Navy as Naval Air Station Isla Grande just prior to World War II. The facility served as Puerto Rico's main international airport until 1954, when the LMM was built.
Meanwhile, Suárez mentioned that repurposing the 136 acres the PRNG occupies at the LMM property could begin generating much-needed recurring revenue for the cash-strapped government agency.
"We all agree that consolidating in Ceiba would allow the National Guard to be more efficient in its operations," said Suárez.
The agency met with PRNG Adjutant General Antonio J. Vicens last week to begin updating a master plan that was drafted several years ago, but was never executed, the agency chief said.
"We agreed to meet again to begin to discuss financing," he said, without disclosing how much money would be needed for the ambitious move.
Aside from working with relocating the PRNG, Suárez said Ports is also pushing to complete the expropriation of Caribbean Airport Facilities, a family-run company that manages 75 percent of the cargo and warehouse space at LMM. The agency has been at odds with CAF for many years and filed to get the company out of LMM in December 2011. A trial date has been set for Aug. 7, 2013.
"We're placing great emphasis on that because the area they control has the potential to generate some $7 million a year right away for Ports," Suárez said.