Private sector groups offer expertise in wake of S&P cut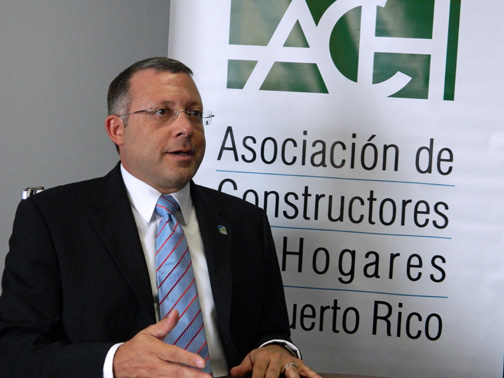 The decision Tuesday by Standard & Poor's to downgrade Puerto Rico's rating to junk status has prompted swift reaction from private sector components, which have stepped forward to offer their expertise to help the government dig out of its fiscal hole.
Puerto Rico Homebuilders Association
While the trade group lamented the credit downgrade, it offered to work with the government on a strategic plan to enable the housing construction industry to "help during this historic and challenging time for Puerto Rico."
"The home builders are ready to contribute to Puerto Rico's recovery and we hope to be part of the government's strategic plan for which we are readily available to help and collaborate," said Homebuilders Association President Roberto "Tito" Trápaga, acknowledging that the credit degradation has an effect not only on the government but on all sectors.
In the specific case of the construction industry, he pointed out that it could have a direct impact on contracting, procurement and payment to contractors, among other effects.
"As it is widely known, the construction industry faces a difficult situation given the lack of private finance and projects as a result of the economic recession the island is facing," Trápaga said. "In this new scenario, the situation could further worsen since many construction companies are depending on the few government infrastructure projects available right now."
"So, the possibility is that with this new scenario, the government will be in the obligation to reduce contracting or procurement and may not be able to pay contractors and construction suppliers, which will have a detrimental effect on our industry," he said.
Meanwhile, he urged the government to include the housing and construction sector in the discussion and planning of the strategic plan to address the fiscal emergency. He also said the group should be included in seeking alternatives that enable the reactivation of the construction industry which is essential for strengthening the economy.
"Our Association is at the government's disposal to trace together coherent actions to neutralize the effect of the degradation and show that as an island we are focused and ready to reroute our economic development, and recover our economic capacity," Trápaga said.
Mortgage Bankers Association of Puerto Rico (MBA)
MBA President Agustín Rojo-Montilla said Wednesday "access to mortgage financing will not be affected by degradation of credit."
"Banks evaluate our client's ability to pay and their credit regardless of the island's credit rating," he said. "It means that mortgage banks will remain open for business and ready to help and guide the consumer and approving and closing home loans."
He said that even in tough times, consumers still have the chance to buy their own home.
"Currently, there are properties at affordable prices and low interest rates, and it may be time for consumers who can, take the opportunity to do good business through a purchase," Rojo said.
On the other hand, he acknowledged "difficult and necessary decisions have been taken, such as austerity measures."
"However, downgrade forces us to realize that an economic recovery will not be achieved simply through austerity measures. It is a wake up call that requires us to develop a comprehensive financial plan that is implemented by way of a 'state of emergency'," said the head of the MBA, an organization that groups the island's mortgage banks.
According to Rojo, the economic plan should include "plans in the short, medium and long term and have the key point reviving the construction industry, as it is this industry that can have a positive economic impact on our economy in a relatively quick period of time."
CPA Society offers its resources to the governor
The Puerto Rico CPA Society on Wednesday offered a recently created special committee at the disposal of Gov. Alejandro García-Padilla to work together and collaborate with his fiscal team in finding solutions and alternatives to address the island's fiscal situation.
In a letter sent to the governor, CPA Society President Aníbal Jover-Pages recognized the significant efforts that have been made in the last 13 months to address the island's economic structural problems.
"We believe it is up to all Puerto Ricans to assume the challenges and face them bravely during this historical moment that we're experiencing," he said.
The special committee is headed by CPA Juan Acosta-Reboyras and includes several CPAs with experienced in public governance.
"We believe that this is no time for regret, but to grow and work in unison to keep the ship afloat and take it to safety," Jover-Pages said.