Puerto Rico chosen for Puma Energy's regional office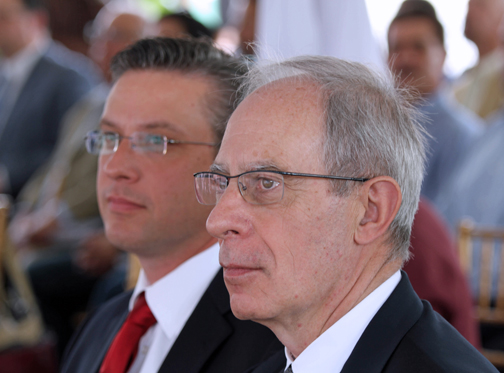 In less than 18 months, the town of Bayamón will become home to Puma Energy's fifth worldwide regional office, joining Tallin (Estonia), Johannesburg (South Africa), Brisbane (Australia) and Singapore as key locations for the company, officials announced Tuesday.
The total investment in the new regional office, which will be completed in April 2015, will be approximately $17 million during the construction phase and will create more than 230 indirect jobs.
This number is in addition to the 700 contractors that are currently working on the construction and environmental rehabilitation of the terminal area in Bayamón, acquired by Puma Energy in 2011. Both figures are part of the more than 3,000 direct and indirect employment opportunities that Puma Energy has created in Puerto Rico.
The Puerto Rico regional office will become the distribution center for the Caribbean and the Americas, serving a number of countries such as: Panama, Belize, El Salvador, Honduras, Nicaragua, Guatemala, Paraguay, the Dominican Republic, and the U.S. Virgin Islands.
The operation will coordinate the supply, storage and transportation of fuels and petroleum-derived products in the region, top officials said during a groundbreaking ceremony held Tuesday on the site of the future facility.
"Over the past few years we have worked with dedication, enthusiasm and have invested significant amounts in the island, without calling much attention to ourselves but in line with the commitment we made when we first arrived. This is only the beginning other various energy projects that we in store for the future," said Serafín Ruiz, chief operating officer for Puma Energy International.
Meanwhile, Víctor Domínguez, general manager of Puma Energy Caribe, LLC said these announcements, aside from transforming Puerto Rico into an epicenter of fuel importation and distribution for the Americas, coincide with the authorization granted by the Public Service Commission to import and distribute propane gas in Puerto Rico, thus increasing the same type of activity for other fuel types in the island.
Domínguez also explained that Puma Energy's development and growth go hand-in-hand with the company's commitment to neighboring communities near the Bayamón terminal.
During the ceremony, which drew participation from high-ranking government officials — including Gov. Alejandro García-Padilla — and private sector representatives, it was announced that the Bayamón terminal (known as CAPECO prior to the transaction) should be fully operational by mid-2014, and that the company should have completed a large part of the environmental rehabilitation effort at the terminal, as well as at the 147 service stations acquired through the CAPECO deal.
"We wish to be a model of social responsibility and, once we acquired the former CAPECO facilities, the first thing we did as meet with community representatives so that they could have first-hand knowledge about our plans for the plant," said Domínguez, who pegged the company's total investment in Puerto Rico at $480 million.