Puerto Rico Coliseum sees record-breaking net income
The Puerto Rico Convention District Authority and ASM Global have announced the financial results of the Puerto Rico Coliseum operations for the fiscal year 2023: The venue saw a historic number of events, attendance and revenue. As of June 30, the operations set a new income record, a net increase of more than 200%, the highest in the coliseum's nearly two-decade history.
The figures shared by Convention District Authority and ASM Global, which manages the main convention district properties, include 92 events held, an 18% increase compared to the projected estimate of 78 events. In terms of attendance, a total of 913,983 tickets were recorded, marking a 30% increase compared to the projection. Notably, the coliseum had a total net income of $7.5 million, a 202% increase compared to the initial projection of $3.7 million for the year. This record-breaking income represents "the highest ever recorded" at the Puerto Rico Coliseum since its opening 19 years ago.
When asked by News is my Business about the properties that remain vacant at the Convention District, including the area planned for the Puerto Rico Film District project in Miramar to be developed, the Convention District Authority's executive director, Mariela Vallines, said that parcel L-4, which was "reserved or committed" for the Film District project, is about 20 acres and is where the Eladio Carrión event was held earlier this year.
"We don't have a contractual commitment right now with any entity regarding that parcel, but certainly we saw the opportunity of continuing to host events such as outdoor festivals in that space," Vallines said. "So we are working on some cost estimates to make a financial projection of how much it would cost us in terms of the investment to install illumination and adapt the parcel so it can be an alternative for hosting outdoor events."
She also told News is my Business that a request for information was published for the area known as Pier 10 in Puerta de Tierra, which is set to be a complex that will combine entertainment and gastronomy, and that "future announcements will be made."
"There are some proposals to develop more hotels that are being evaluated by the board of directors, and we have already announced that two more hotels that belong to the Hilton chain are going to be built. In addition, housing projects have also been announced, so the answer is yes, there are available spaces, and yes, we have many projects underway," Vallines said.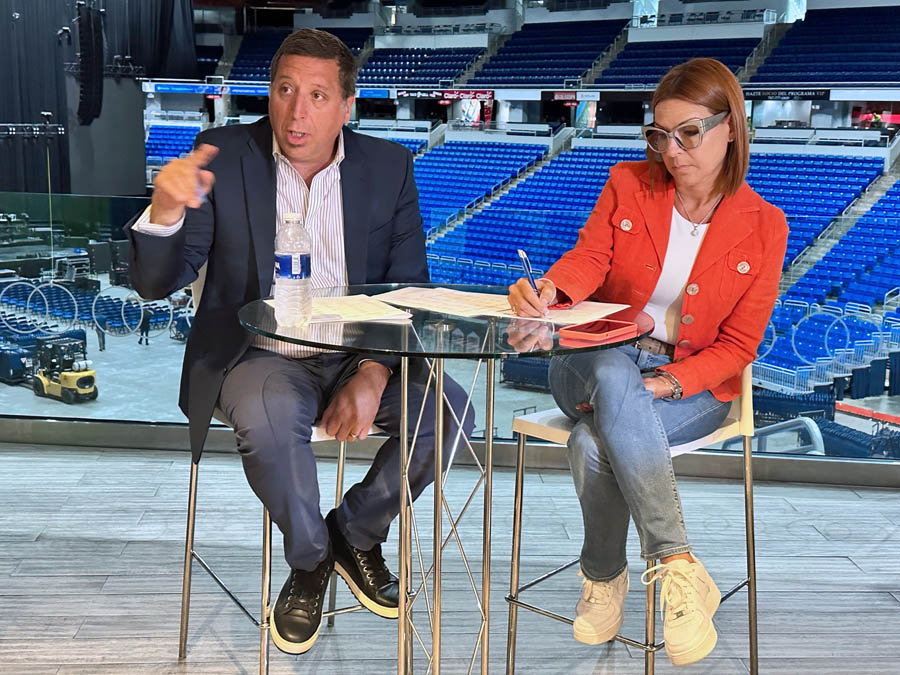 The Puerto Rico Coliseum, which is officially named the José Miguel Agrelot Coliseum and known as "El Choliseo," opened its doors in September 2004. Since then, it has been a venue for special events and concerts featuring a range of local and international artists who have performed before millions of attendees who are either music lovers, sports fans or theatergoers. The venue is recognized as one of the most profitable arenas in the U.S., receiving global industry recognition, including features in prestigious publications such as Pollstar and Billboard Magazine.
In April, Pollstar published its "Top 100 Arenas," where the Puerto Rico Coliseum was ranked 11th in sales during the first quarter of 2023, with a total of $12 million. It ranked eighth in worldwide ticket sales with a total of 183,685 tickets for the same period. It should be noted that by May 2022, El Choliseo had already sold more than 10 million tickets for events held at the venue.
According to Jorge Pérez, regional general manager of ASM Global, "the Puerto Rico Coliseum and its diverse lineup of high-profile events have been a key element as part of Puerto Rico's tourism promotion strategy to support the country's economic development."
Vallines said the investment made by the Convention District Authority to promote Puerto Rico as a unique entertainment destination has positively impacted the coliseum.
"The Puerto Rico Coliseum is an essential part of the island's strategies, and we continue to work on sponsorship and promotional initiatives to attract investment and large-scale events that maintain the position of El Choliseo among the best venues in the world," Vallines said. "What began with the sponsorship of the Dick Clark New Year's Rockin' Eve celebration at the T-Mobile District has positioned Puerto Rico as a destination with top-notch facilities and the talent to host large-scale events like the WWE events held at the Puerto Rico Coliseum. "Promotion and sponsorship strategies for major global events have positioned us among the top choices for producers to bring their events to the Puerto Rico Coliseum and other facilities managed by the Authority."
Vallines said that the Convention District Authority has invested about $12 million in American Rescue Plan Act (ARPA) funds and other allocations to sponsor a range of large-scale events. The return on investment exceeds $100 million, she added.
Vallines further noted that from 2018 to date, $6.8 million has been invested, and 42 capital improvement projects have been completed at the coliseum. Currently, there is an investment of $8.3 million in 19 ongoing projects. These projects mainly involve repairs and maintenance that are vital for the optimal functioning of the coliseum and aim to enhance the audience's experience when attending events.
"The success of the Puerto Rico Coliseum largely depends on good management, proper maintenance of its physical structure, and keeping it up-to-date with the latest technological resources given the state-of-the-art building that it is," Vallines said. "That is why we always allocate resources for these purposes to ensure that it continues to be a top-notch facility."
Recently, as a preview of the venue's 20th anniversary celebration in 2024, the new image transformation project "Choli Transformations" was presented. The project aims to bring new concessions to offer a more varied culinary experience, greater emphasis on creative cocktails and the development of spaces for corporate events, among other features.
Local muralists are decorating the interiors of the venue under the curatorship of Alexis Bousquets, founder of the community cultural project Santurce es Ley. With an estimated investment of $450,000, the project is being carried out in various phases and is expected to be finished by 2024.
"We are extremely pleased with the results achieved this year, and it motivates us to continue exploring new ways to enhance the experience for our audience and artists," Pérez said. "We have a team that works with a lot of vision and a commitment to excellence, which contributes as a key factor to the success we have achieved."