Puerto Rico lottery launches new Facebook page, revamps website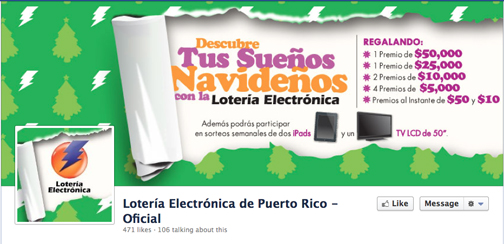 In keeping with the growth in popularity generated by social networks, the Electronic Lottery of Puerto Rico recently established an official page on Facebook, through which its "friends" can see the winning numbers for all drawings as soon as they are drawn.
The winning Pick-2, Pick-3, Pick-4, Multiplier, Loto and "Revancha" numbers will be published instantly, making it easier for players to check them through their computers or smartphones. The Facebook page will also include information about points of sale and prizes.
"It's important to note that this is the official page, which is managed directly by Electronic Lottery staff who offer precise and correct information about our drawings," said Lottery Deputy Secretary María Victoria León.
Meanwhile, the Puerto Rico Electronic Lottery's website has been redesigned and streamlined, making it easier to navigate and find the information needed. It provides for users to register and receive information, such as alerts and special offers or promotions. To access it, visit www.loteriaelectronicapr.com.