Puerto Rico Tourism Co. marks 'paradores'' 40th anniversary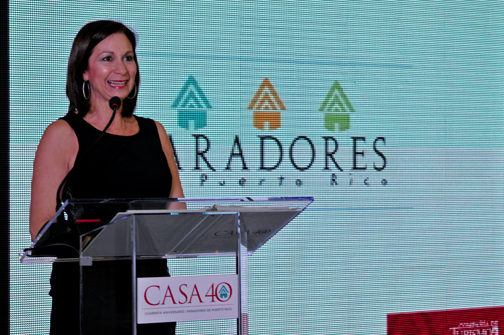 A new marketing plan, discount getaway package offers, and entertainment events are some of the initiatives that the Puerto Rico Tourism Company is setting off to celebrate the 40th anniversary of family-owned "paradores," and promote and increase occupancy at the small inns participating in the "Paradores de Puerto Rico" program.
The announcement of some of the new strategies to be implemented in the upcoming months was made during the "Casa 40" event held recently in the historic Casino de Puerto Rico building in Old San Juan.
"Today we're delighted to celebrate 40 years of family history and tradition. These small inns are an example of how Puerto Rican hospitality businesses have contributed to the economic development and creation of jobs on our island," said Tourism Company Executive Director Ingrid Rivera-Rocafort.
"At the Tourism Company we're proud to be part of the Puerto Rican tradition that is 'Paradores de Puerto Rico'," she said, noting that plans to be implemented in the upcoming months also call for promoting the "Paradores de Puerto Rico" brand in local and overseas markets.
Part of the promotional campaign has already been put into action. In April, the agency began rolling out several efforts: the "Enjoy your Paradores" package, which offers a $75 discount on a 2-day minimum stay; the inclusion of the "Paradores" brand in the ad campaign used for major events such as the World Baseball Classic, Saborea and the Puerto Rico Open, seen by millions of spectators around the globe; and the an aggressive marketing campaign in local media.
The agency's marketing and promotion plan for "Paradores" focuses on local, U.S. mainland, Latin American, European, and Caribbean markets. Strategies include publishing a special edition of the "Qué Pasa!" magazine dedicated to the small hotels and the brand, as well as a commemorative guide with details of each inn.
Other strategies consist of the inclusion of "Paradores" brand as part of sponsorship agreements for local and international events; the "$40 for 40" package, a $40 per night discount incentive for a minimum two-night stay, for a total $80 off; featuring the brand in the Tourism Co.'s digital platform; an online reservation system that includes "paradores" small inns; and "Paradores" staff working side by side with agency sales representatives attending road shows and tourism industry events, she said.