Retail sales to increase by 3.3% during Christmas season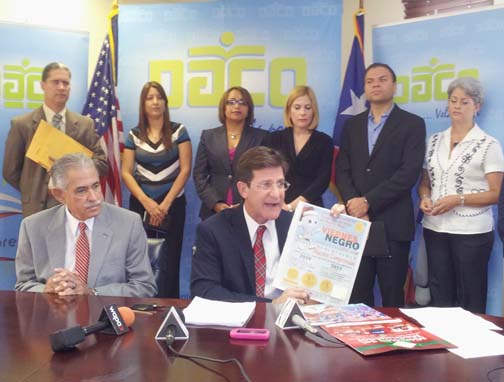 Just two days before the biggest shopping weekend of the year, Puerto Rico Trade predicted Tuesday that retail sales will increase by 3.3 percent during the Christmas season, if the pattern in local consumer purchases maintains the same growth rate registered in the period ended in September 2011, which was $2.9 billion.
"The results of the sales report ended September 2011 shows that the local consumer is optimistic of being able to make purchases as a result of the economic recovery Puerto Rico is experiencing," said Economic Development and Commerce Secretary José Pérez-Riera, who also heads Puerto Rico Trade.
So far in 2011, retail sales have exceeded $28 billion.
"We feel positive and confident that this shopping pace will continue increasing and commercial establishments will have a period of economic prosperity in the best time of year, Christmas," he said.
He said since mid-year, retails sales showed a steady growth, increasing by 4.6 percent in comparison to the same semester ended in June 2010.
"In recent months retail sales have reported positive results, managing to maintain a stable trend," he said. "Puerto Rico Trade's report shows a strong recovery in commercial economic activity during the month of September, which ended with $2.9 million in sales."
According to the retail sales report for September, there was a growth of 2.9 percent in activity, which Pérez-Riera said were "encouraging" results that predict a brisk holiday shopping season.
The results of the sales report show an increased economic activity in commercial establishments through September. This trend, he said, indicates that retail outlets will resume their growth and their contribution to the economy of the island.
DACO ready for Black Friday
During a Tuesday morning news conference, Consumer Affairs Secretary Luis Rivera-Marín laid out the measures the agency will take to monitor retail establishments during the busy shopping season.
Among other things, the agency has implemented a system to enforce its Misleading Advertising and Practices Regulations, as well as orient businesses throughout the year. Rivera-Marín also said consumers are better educated about their rights and reporting violations back to the agency.
The most common violations by major retailers are advertising items that are not available, differences between the advertised price and insufficient items to last through the sale period.
Meanwhile, Rivera-Marín urged consumers to be prudent and above all to remain patient when making a purchase during Black Friday.
"We always recommend consumers to visit stores without minor children so that they can avoid having them go missing. Read the store flyer carefully, check prices and return policies before buying, to make sure items can be exchanged for another of the same or lesser value and if retailers give back cash, if receipts are necessary and if there is a period within which to make returns," he said.