Returning to 'economics 101' principles key to rebounding, growth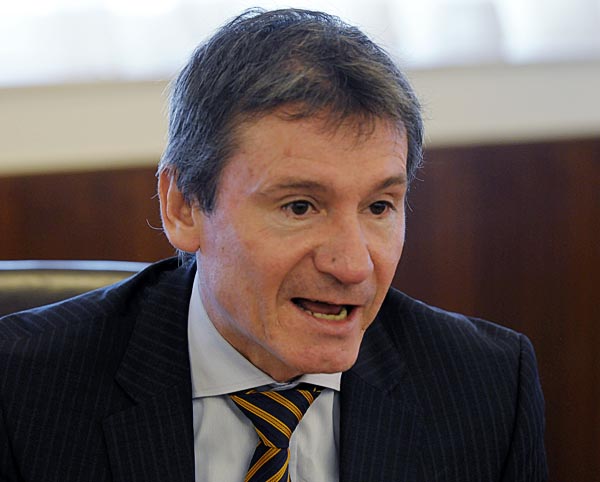 World economies that are either stagnant or not growing as much as they should need to go back to basics, build upon their resources and take stock of what they have to offer the rest of the planet to be able to move forward.
That theory rings especially true for the United States where every component of the economy — government, businesses and households — could benefit from making such adjustments, Pablo Bréard, vice president of Scotiabank's international research division told News is my Business during an exclusive interview Monday.
"I believe finding the potential of a country such as the United States takes reverting back to fundamental elements of the economy, finances, investment and production," he said. "There are changes taking place now and more lay ahead."
Bréard belongs to the school of thought that there will be no such thing as a "double-dip" recession in the U.S. economy, especially because after successfully navigating through its crisis, the banking industry is now well regulated and more solid than ever.
"The United States' economic structure has been undergoing transformations that really don't need to reach the point of triggering apocalyptic predictions, like the possibility of a double-dip recession," he said. "I think recent events and economic shocks have proven that the United States' level of debt is unsustainable and that the government, businesses and households need to adjust."
The U.S. economy —which represents less than 20 percent of the global economy — is expected to slowly crawl out of its current recession with a growth of about 1.8 percent this year. Meanwhile, other economic powers such as China, India and Japan will maintain their healthy growth curves.
"Emerging markets are the engines of future growth. In a way, when somebody mentions the term 'double-dip,' its almost as if the world were centered around the United States and that's not true," Bréard said. "There is no such global recession when the rest of the countries are growing."
With a relentless optimism, the economist, who will participate today in a panel discussion during the 29th InterAmerican Accounting Conference, said the U.S. possesses a "socio-biological asset, which is its entrepreneurial spirit that generates innovation, jobs and new businesses."
Capitalizing on that will pave the way for growth, and will require introspection from individuals — especially those who have lost their jobs recently — to find new skill sets they can tap into to reinvent themselves and move forward.
The same rings true for Puerto Rico, which could take advantage of its ability to innovate and export, he noted.