San Juan among favored Labor Day vacation spots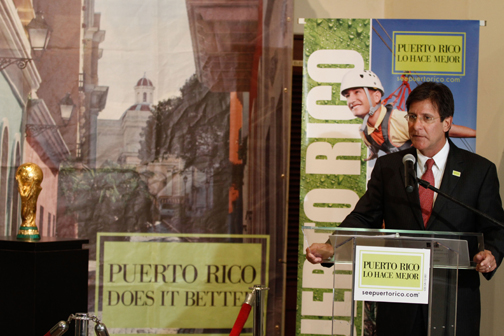 Online airfare search engine Fly.com unveiled Thursday North America's top 10 most popular travel destinations for Labor Day, listing San Juan as the fourth favorite spot chosen based on data from more than 3 million user searches.
U.S. destinations dominate Fly.com's latest study results, with New York City edging out Las Vegas as America's favorite place to visit over Labor Day.
The Big Apple and Sin City are joined in the top five by Orlando, Fort Lauderdale and San Juan. The nation's western flank is also well represented, with Los Angeles, San Francisco and Honolulu taking the seventh, eighth and tenth places respectively.
Lima is the only international destination of choice, due in large part to a $239 roundtrip airfare deal that published in June, the company said.
"Labor Day is often thought of as the last chance for a summer vacation," said Warren Chang, general manager of Fly.com. "Similar to the trend that we uncovered in the spring, Americans are still favoring travel within the United States – at least for this particular federal holiday. This is likely due to aggressive deals from domestic airlines, which have recently targeted the late summer and early fall."
Fly.com used data collected from more than 3 million user searches and extracted domestic and international flights with departure dates Aug. 25 – Sept. 1 and return dates Sept. 2 – 9.  The study period included all searches conducted June 1 – July 18, 2012.
Tourism launches free adventure promo
In related news, the Puerto Rico Tourism Company launched Thursday a promotion offering free adventure tours to visitors who book a four-night stay with participating hotels.
This is the first time the agency has launched this type of a package, seeking to entice visitors to experience Puerto Rico outside of their hotels with some of the best and most unique adventures and attractions the destination has to offer, Tourism Co. Executive Director Luis Rivera-Marín said.
To participate in the deal, travelers must either speak with their travel agents or visit seepuertorico.com's consumer promotion landing page that will provide consumers with full details including direct links to participating hotels. The adventure choices include: kayaking in one of only six bioluminescent bays in the world; a hiking tour of El Yunque rain forest; a culinary tour of San Juan; a catamaran tour; a city tour of either Old San Juan or Caguas; a visit to the ToroVerde Adventure Park; a guided biking tour of Old San Juan; or a golf package at one of the island's world-class fairways.
The offer needs to be booked by Sept. 16, 2012, for travel before Nov. 16, 2012, representing an escape for those living in the colder latitudes.