Science Trust, Colmena66 host workshop on SBA grant programs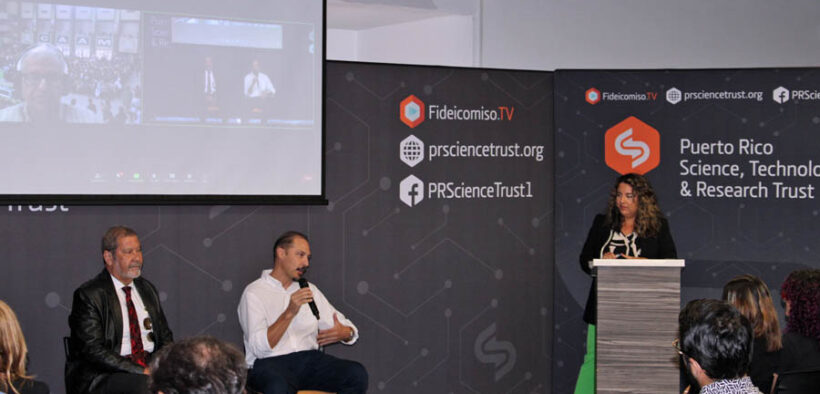 The Puerto Rico Science, Technology and Research Trust, in conjunction with its Colmena66 program, recently held the "How to take innovation from the laboratory to the market" workshop.
Almost 100 people attended the event, which was organized as part of the organization's commitments to the U.S. Small Business Administration (SBA), to provide guidance to business support organizations, researchers and entrepreneurs interested in the innovation ecosystem and the commercialization of innovative technological solutions through the Small Business Innovation Research (SBIR) and Small Business Technology Transfer (STTR) federal grant programs.
The free workshop was conducted in a hybrid format. It gave participants the chance to learn about the federal government's SBIR/STTR programs, administered by 11 participating agencies. These programs provide funding in three phases: research, prototype development and commercialization. It also covered how innovation ecosystems are developed and how scientific research is commercialized.
"Academic laboratories develop solutions that, if commercialized, can improve the well-being of citizens. How do we achieve this? There are several ways: Researchers can turn their projects into a business, or if they are not interested in becoming entrepreneurs, they can team up with an entrepreneur," said Denisse Rodríguez, director of Colmena66.
"In both cases, investing in research and development is risky and costly. For this reason, the federal government allocates funds that allow companies to receive up to $1 million in phases 1 and 2.
"At the Trust and Colmena66, we have integrated the ecosystem to develop a support structure to ensure that Puerto Rico receives more SBIR/STTR grants. We designed this event to clearly present the available opportunities and share success stories of researchers and entrepreneurs who have successfully won these highly competitive proposals thanks to the support of the innovation ecosystem," Rodríguez said.
Two panels of experts were held during the event. The first focused on identifying the criteria and qualities of a project with the potential to obtain funds through SBIR/STTR. The panelists included Jaime Santiago, an expert in project management and evaluation; Manuel Lobato, an economist and professor at University of Puerto Rico (UPR); and Rodolfo Romanach, a professor at UPR-Mayagüez. The discussion was moderated by Andreica Maldonado, director of the trust's Research Grants Program.
The second panel highlighted three success stories of companies that have received funding through the SBIR/STTR programs. The panelists were Silvina Cancelos, founder of SIL Technologies; Sebastián Sagardía, founder of Huerto Rico; and Juan Padilla of Social Solutions. The panel was moderated by Ramonita Diaz Ayala of Bidea LLC.
Participants agreed that support can be found for those willing to innovate, noting that these subsidies are typically not won the first time they are applied for, so perseverance is key. They also emphasized the critical role of resources and mentorship provided by the trust before and after receiving the grant.
More than $14 million in economic impact has been generated in Puerto Rico through the SBIR/STTR programs and the trust's matching of funds, organization officials said. Furthermore, 52% of all SBIR/STTR grants received in Puerto Rico for more than 30 years have been won in the last seven years, coinciding with the start of the trust's efforts.
The workshop is part of a series of projects and initiatives driven by Colmena66 after being chosen as the winner of the first stage of the SBA's Growth Accelerator Fund Competition. Colmena66 received a $50,000 prize, which will be used to establish strategic partnerships in support of small businesses and entrepreneurs in STEM (science, technology, engineering and mathematics), and research and development as they launch, grow and scale their businesses.