CBP: Significant spike in counterfeit goods seized in PR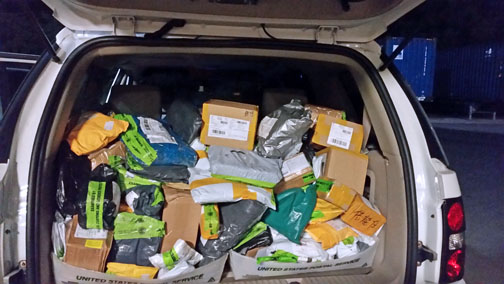 U.S. Customs and Border Protection (CBP) San Juan Field Operations confirmed Tuesday a significant increase of more than 300 percent in the seizure of counterfeit merchandise during the first two quarters of federal fiscal year 2017 compared to the same period in FY2016.
The estimated manufacturer's suggested retail price of all counterfeit products seized exceeds $20 million. The seized merchandise is imported into Puerto Rico via international mail or courier, the agency said
CBP protects businesses and consumers every day through an aggressive Intellectual Property Rights (IPR) enforcement program. CBP targets and seizes imports of counterfeit and pirated goods, and enforces exclusion orders on patent-infringing and other IPR goods.
But despite these efforts, the internet has made it easy to find, purchase, and ship items from almost anywhere in the world.  With a high demand for well-known brands, many online vendors sell counterfeit products online, infringing on various trademark holder's rights and revenues.
"We urge the people of Puerto Rico, do not purchase counterfeit products," said Edward Ryan, assistant director of trade for Puerto Rico and the U.S. Virgin Islands.
"While you may believe you are getting a similar product, at a discounted price, you are certainly not.  These products are often hazardous, manufactured with toxic materials and harmful chemicals, and are bad for your health," he said.
In the past, seized counterfeits have been found to contain hazardous substances including cyanide, arsenic, mercury, lead, urine and rat droppings.
"HSI recently partnered with CBP by signing the San Juan Trade Enforcement Coordination Center agreement to further strengthen the already in-place excellent working relationship between HSI and CBP in Puerto Rico," said Ricardo Mayoral, special agent in charge of HSI San Juan.
"Trade fraud can have significant implications for the U.S. economy and consumers and frequently violate U.S. health and safety standards, potentially endangering the public. HSI is committed to fighting these fraudulent actors alongside our government partners," Mayoral said.
If you have information about counterfeit merchandise being illegally imported into Puerto Rico, CBP encourages you to submit an E-Allegation. The e-Allegation provides a means for the public to anonymously report to CBP any suspected violations of trade laws or regulations related to the importation of goods into the U.S.