Triple-S reports $21.9M in net income for 3Q17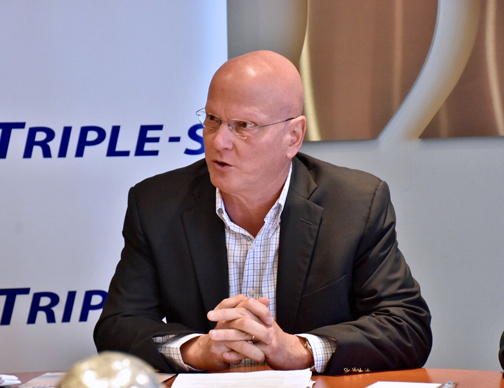 Triple-S Management Corp. announced third quarter 2017 results Thursday, confirming net income of $21.9 million, or $0.91 per diluted share, versus a net loss of $1.9 million, or $0.08 per diluted share, in the prior-year period.
The company reported total revenues of $738.2 million, representing a 0.9 percent decrease, compared with $744.7 million in the prior-year period.
"The impact of two major hurricanes on Puerto Rico within a two-week period during the quarter was a historic event with significant economic and social impact," said Triple-S President Roberto García.
"Seven weeks after María, basic infrastructure is not yet fully functional, with power generation at 42 percent of average, potable water at 83 percent of its capacity and telecommunications bandwidth still limited in many parts of the island," he said.
Despite the hardship, however, the residents of Puerto Rico have demonstrated tremendous resolve, working tirelessly to help their neighbors and communities recover, he said.
"We are particularly grateful to our employees and business partners who made it possible for Triple-S to resume operations within days after María landed, our medical groups — many of whom are providing services despite challenging conditions — and the many volunteers who have crisscrossed the island by our side to reconnect patients with doctors," he said.
For the three months ended Sept. 30, total operating revenue was $731.1 million, down 1 percent from a year ago and earnings per share came at $0.91 compared with a net loss of $1.9 million or $0.08 per diluted share for the same quarter last year.
For the three-month period, Triple-S reported adjusted net income of $18.7 million, or $0.77 per diluted share, versus adjusted net loss of $6.3 million, or $0.26 per diluted share, a year ago, reflecting positive results in its Managed Care operations and the negative impact on the company's 2016 third quarter results from unfavorable prior-period reserve developments.
The results also reflect, to a lesser extent, the net impact of the recent hurricanes, which represented approximately $0.09 of the improvement in the third quarter diluted earnings per share, the company confirmed.
"We have focused our efforts on ensuring the well-being of our employees, helping our providers resume operations, enabling access to healthcare services, and promptly processing property insurance claims to accelerate the rebuilding of our economy," said García.
"Healthcare services are steadily returning to normal, although still somewhat tied to the recovery of Puerto Rico's infrastructure. More than 87 percent of our primary medical groups are now operational, but utilization of healthcare services overall is below average, reflecting the general population's continued focus on relief and recovery," he said, adding it "is still too early to tell how utilization patterns, the acceleration of outward migration, and reconstruction efforts will impact future results."
Triple-S facilities throughout the island suffered only "minor damage," and the company was able to resume limited operations several days after Hurricane María struck on Sept. 20. A week and a half later, Triple-S had returned to a normal schedule, García said during the company's conference call to discuss results.
In the call, García said there is concern over the uncertainty of what the hurricane's ultimate long-term impact will be, as "these trends could affect our commercial membership," especially due to the seemingly unstoppable wave of migration.