16 local companies to participate in Unlock Capital's second cohort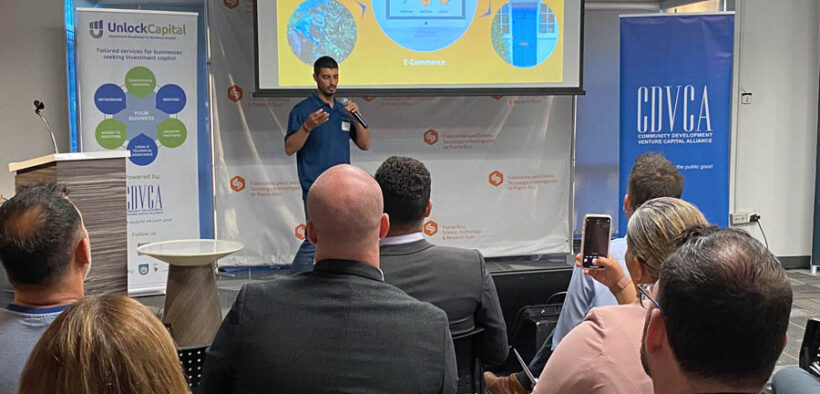 The Community Development Venture Capital Alliance (CDVCA) has announced the 16 Puerto Rican companies that will participate in the second edition of the Unlock Capital Investment Readiness for Business Growth cohort program that will combine a series of workshops and webinars through June.
Unlock Capital is a business accelerator program focused on growth financing and investment readiness that provides six to nine months of individually tailored services to help companies secure capital for growth.
The 2022 cohort had 15 local companies that were able to pitch their projects to investors, as News is my Business reported, and collectively raised nearly $1.9 million to date and are still being tracked to measure their impact.
The selected entrepreneurs for the second cohort will introduce their businesses to the Puerto Rico investment ecosystem at the Unlock Capital 2023 Cohort Kick-Off on March 30 at the Penthouse in Popular Center, Hato Rey at 5 p.m.
"In April, we will start with our educational sessions, matching them with mentors, and providing them with pro bono, legal support and financial support, really getting them into the program," said Ernesto Villarini, executive manager for the Unlock Capital Program and vice president of the CDVCA.
"For this cohort, 152 companies showed interest in our cohort program after being identified individually, 71 companies applied for the program, 24 companies were interviewed and from those, 16 were selected to participate," said Villarini.
Some of the topics for the core webinars that are to be presented throughout the cohort are: growth capital, determining capital needs, preparation for investors, pitching businesses, company valuation and negotiation.
"Something very insightful of this cohort is that we have four very well-established companies that have never participated in an accelerator and are now looking for growth capital," said Alejandra Jiménez, Unlock Capital's program manager.
CDVCA's staff and collaborators provide education, technical assistance, mentoring, investor introductions, and pro bono legal and financial support to different types of company in need of growth financing that can be as little as $100,000 to more than $1 million.
The 16 selected companies are:
Libros 787 — Online marketplace that connects Latino writers and readers across the world.
Fiberwolf — Cybersecurity software that offers customers data protection and risk management.
Armstrong Welds & Supplies Puerto Rico — Welding supplies company engaged in the exclusive distribution of industrial and commercial welding products and brazing needs.
Divinissimo Gelato — Wine of wine-based gelato (Italian-style ice cream) infused with different fruits and spices.
Insu Health Design — Novel temperature-control technologies to safely store and transport medications, biologics and other temperature-sensitive components.
Mucho Gusto — First local 100% plant based and gluten free ice cream and dessert shop in Puerto Rico.
CelerOps — Developer of digital tools and algorithms to automate administrative processes and repetitive tasks.
Barras — Produces and markets premium soap made with natural ingredients.
Caribbean HVAC Solutions — LG Sales and Service Representative of heating, ventilation and air conditioning systems.
Di Amalfi PR — Fresh pasta manufacturing and distribution company based in Mayagüez, Puerto Rico.
Evocare — Marketplace that facilitates the process of looking for humane and professional caregivers for family and loved ones.
MBQ Pharma — Biotech company based in Puerto Rico dedicated to developing anticancer drugs for metastasis inhibition and tumor growth regression.
Nacho Libre — Mexican culinary experience where customers can enjoy top-quality food cooked with local fresh ingredients.
SONS Notebooks — Color-coded organizational notebook system and tools that promote the development of executive functions in an easy and efficient way.
Zero Damage —Designer, manufacturer, and distributor of prefabricated and modular structures that are assembled without screws or welding.
Zurc Brauhaus — Local craft beer brands of top-tier quality brewed in Coamo.
"To help the entrepreneurs, we have a memorandum of understanding with different entities that provide pro bono, like Invest Puerto Rico, and recently signed a new one with the Puerto Rico Chamber of Commerce of Puerto Rico," Villarini said.