Almodóvar-Scalley takes over helm of Triple-S Salud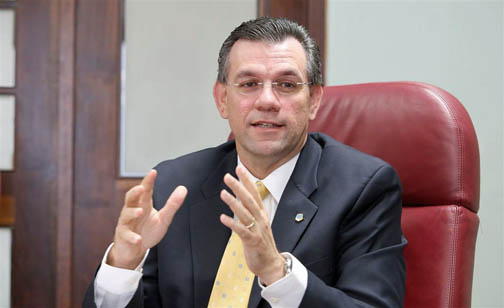 With a focus on supporting preventive medicine programs and expediting the use of electronic medical records, insurance industry veteran Pablo Almodóvar-Scalley will take over the helm of Triple-S Salud effective Oct. 1.
"My designation as president of Puerto Rico's most important insurance company fills me with a profound sense of pride," he said.
"Triple-S is my home, where I have grown as a professional," said Almodóvar-Scalley, who succeeds outgoing President Socorro Rivas, who is retiring after a 10-year tenure in the position and more than 30 with the company.
Almodóvar-Scalley joined the Triple-S organization in 1990 as accounting director for Triple-S Property. From there, he continued to move up the ranks until taking over the position of executive vice president of Triple-S Salud in 2004, working alongside Rivas.
In his new job, the executive will place special importance on the federal electronic medical records mandate and the ensuing access by physicians to more comprehensive information about their patients, which he believes will facilitate the further development of prevention initiatives.
"One of the strategies we're strongly working on is strengthening our relationships with primary care physicians, who are normally responsible for preventive medicine routines, and part of what we're doing is designing a product focussed on stressing that practice," he said.
That said, he hopes to launch a pilot program next year to encourage preventive medicine practices that will incorporate aspects of the so-called "Accountable Care Organization" model — which calls for reimbursing doctors for positive result metrics and reductions in the total cost of care for an assigned population of patients — as well as the "Staff Model" approach, which also offers performance-based incentives to the medical community.
"I am an optimist and though it is undeniable that changes in demographics, regulations and the business environment affecting the industry pose challenges, it is precisely these challenges that allow us to innovate. This has certainly been the key to Triple-S' success," he said.
E-records at heart of prevention
The success of that preventive medicine strategy will also rely heavily on the deployment and use of e-records, which by 2015 must be fully available in response to the deadline the federal goverment has given U.S. jurisdictions to move away from paper records.
"We have a very specific strategy in place regarding how we want to use e-records. That benefits the entire industry because it helps us integrate healthcare information that is now quite fragmented. Ultimately, that technology will give clinical professionals tending to a condition full access to everything that is happening with that patient," Almodóvar-Scalley noted.
And while all patients stand to benefit from the availability of e-records, it is the aging population that will probably gain the most advantage, given the higher number of conditions that come as people get older.
Triple-S is Puerto Rico's largest health insurer, with some 1.6 million subscribers. The lion's share of that universe, or about 890,000, are patients covered by the "Mi Salud" government health plan, while another 13 percent, or 200,000 people, are 65 and older, he said.
Uninsured universe a concern
That leaves about 510,000 subscribers who are either self-employed or covered by a corporate health plan — two segments that have been "challenged" by the current economic conditions, he said.
"We're in an economy in attrition where jobs are concerned and although there may have been an improvement, the reality is that jobs are not being created and we're not seeing that new investment that boosts an economy. That's a challenge we have ahead of us, because then you have an uninsured segment needing services."
It is estimated that there are about 300,000 people in Puerto Rico lacking health insurance coverage because they either do not qualify for the government's healthcare option or cannot afford a private plan.
"However, there are government exchange programs that seek to provide coverage to that segment and it is a possibility to reach between 40 percent and 50 percent of those insured over the next two or three years," he said. "Although the local government has not expressed itself about it, that coverage could happen through 'Mi Salud,' depending on funding that may come down from the federal government."