American Red Cross, Puerto Rico Food Bank to distribute 25K food boxes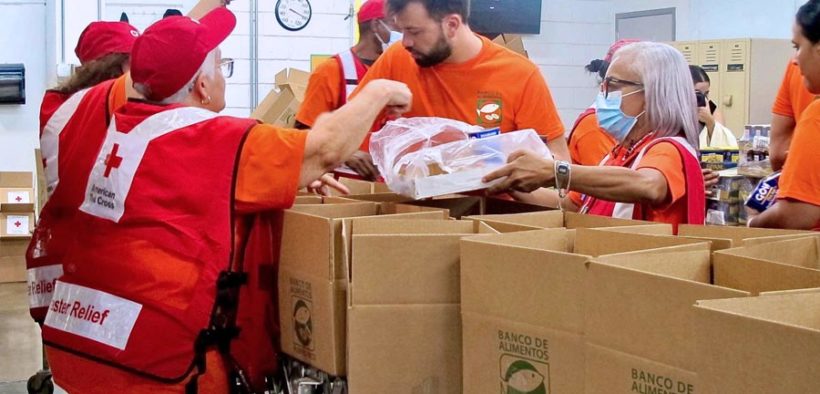 The American Red Cross and the Puerto Rico Food Bank have joined efforts and capacities to prepare and deliver 25,000 boxes of food, which are currently distributed to communities affected by Hurricane Fiona on the island.
The American Red Cross has donated the food needed for the preparation of the 25,000 boxes and the food bank is working on the assembly, storage, and distribution.
The distribution of the food boxes will be carried out through collaboration with other nonprofit organizations associated with the Puerto Rico Food Bank.
As part of the short- and long- term recovery effort from the hurricane, some municipalities where food will be delivered are: Maricao, Guánica, Peñuelas, San Germán, Sábana Grande, Lajas and Adjuntas.
In addition, they will be distributed according to the priorities established by the Red Cross because of the needs of the community.
"This effort is carried out after identifying the need for food that the families impacted by the hurricane have. Many of these families have been without power for more than a week and there is still a need," said Lee Vanessa Feliciano, regional executive of the American Red Cross Puerto Rico Chapter.
"This collaboration takes place to meet the objectives of our organizations and impact our people quickly and directly as possible. It is an opportunity for this nonprofit sector to bring together the strengths of our organizations to serve our families more efficiently," she said.
Of this total, the American Red Cross has already made several of the distributions in different affected municipalities. At the same time, the Food Bank makes these distributions based on requests they receive from other community organizations and government agencies.
"The coordinated effort has been monumental, but always ensuring that we impact the most affected families, avoiding duplication and excesses. The help of the Red Cross has been essential to have the necessary supplies and the identification of cases that require immediate attention," said Denise Santos, president of the Puerto Rico Food Bank.
To date, the American Red Cross has distributed more than 147,100 meals and snacks, and has delivered over 55,340 items of basic needs, including: water boxes, hygiene items, blankets, solar lanterns, and clean-up kits, among others. The organization has more than 350 responders of disaster in Puerto Rico and United States.
Similarly, in its mission to fight food insecurity, the Food Bank has distributed more than 800,000 pounds of food to more than 40 towns throughout the island after the emergency occurred in collaboration with nonprofit organizaations, donors, and volunteers.