Atento reopens Caguas call center after $9M post-María renovation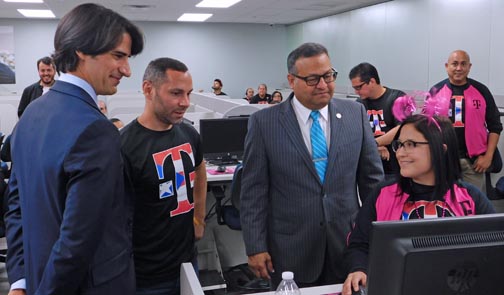 Atento S.A., a provider of customer relationship management and business process outsourcing services in Latin America, marked the reopening of its customer relations center in Caguas, following a comprehensive post-Hurricane María renovation.
The state-of-the-art center is used to provide customer experience and business process outsourcing services and solutions in Puerto Rico, as well as services and solutions to companies operating in the United States.
Atento uses the 5,000 square-meter facility at the El Troche Industrial Park as a center to provide services to companies in the telecommunications, banking, financial services or consumer electronics sectors, among others. One of its main clients is T-Mobile Puerto Rico.
The installations have been completely renovated to include next-generation technology in the sector, data centers with excellent connectivity, over 620 workstations, digital capabilities as well as recruitment, training and recreational areas. The center is fully adapted to the needs of persons with disabilities.
From Caguas, Atento will offer a range of services and solutions that include: customer services, sales, technical support, credit management or back office to leading companies in the market through multiple channels such as telephone, chat, social media and digital apps. Some 400 people will initially work at the center — 70 percent English/Spanish bilingual, — a figure that is expected to increase by 200 over the coming weeks.
"It is with great satisfaction that we are here today to reopen our customer relations center in Puerto Rico, which will mark a before and after in the provision of customer experience services and solutions on the island, Alejandro Reynal, CEO of Atento, said.
"Today is a very special day for Atento and our clients because we are strengthening our joint commitment to economic development and to offering an outstanding customer experience in and from Puerto Rico, capable of generating a competitive advantage and responding to the changing needs of an increasingly digital society," he said.
Meanwhile, Caguas Mayor William Miranda-Torres said the reopening "contributes to the economic development of the city by promoting the creation of small businesses that provides supporting services here and in the region."
Atento has been doing business in Caguas since 1999, and is the main private employer in the city.
Caguas to become outsourcing hub
The center in Caguas also expands Atento's capacity to offer customer relations management and business process outsourcing services from Latin America to companies operating in the U.S. market, executives said.
From Caguas, Atento will provide a wide range of CRM/BPO services to companies from sectors such as telecommunications, banking and financial services, utilities, ecommerce or travel and hospitality among others.
"This center in Caguas will enable our company to strengthen its commitment to offering outstanding and competitive nearshore customer experience solutions to the U.S. market in a way that only the undisputed leader in this sector in Latin America can," said
He went on to say that "Puerto Rico offers huge advantages to the U.S. Nearshore market as it combines the cost efficiency of offshore territories with the benefits of U.S. territories."